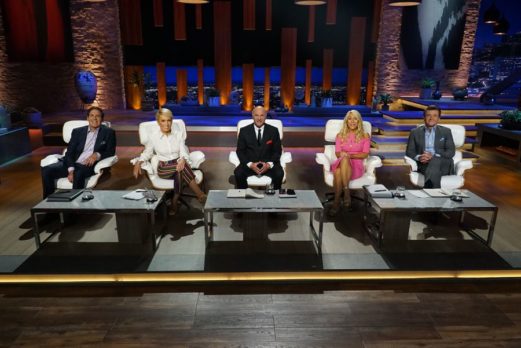 It's a Sharkette special for Shark Tank episode 1118 as Lori and Barbara share the stage with Mark, Kevin and Robert. They'll evaluate four new businesses seeking an investment and guidance from one of the wealthy Sharks.
"Juicetrepreneur" Ashi Jelinek gives the Sharks a taste of KidsLuv, her sugar free, vitamin enriched kids drinks in eco-friendly packaging. Life-long friends and entrepreneurial team Krissy Pruske and Rachel Lincoln pitch Space Traveler, their "tent" that's a children's travel product that physically separates kids while traveling. Andy and Eric Bert heat things up when they introduce the Bertello Pizza Oven, a portable outdoor pizza oven that runs on gas, wood or charcoal. Bunim Laskin hopes to swim with the Sharks with Swimply, his pool sharing app that's the "AirBnB of pool rentals."
Back in season 9, Lori offered EverlyWell, a home medical testing company, a $1 million line of credit for 5% of the business. Entrepreneur Julia Cheek needed cash to help grow her retail presence and to get doctors into her network so the company could share test results with primary care providers. Tonight, we'll see how things are going for this business.
The Sharks
---
Barbara Corcoran
Robert Herjavec
There are 28 Shark Tank Episodes for Season 11. This season features more appearances by "guest Sharks," including billionaire Katrina Lake – Founder of Stitch Fix, Rohan Oza – "Brand Messiah" and founder of Vitamin Water,
Daniel Lubetzky – Founder of KIND, Matt Higgins – Entrepreneur and Miami Dolphins Vice-Chairman,
Maria Sharapova – Tennis Pro and Founder of Sugarpova and Anne Wojcicki – Founder of 23andMe.  Casting is currently closed, but it never hurts to get a head start on season twelve! If you would like to appear on the show, check out our Auditions and Casting information.
Episode 1118 – The Shark Investors and Entrepreneurs
The Shark Tank Episode 1118 entrepreneurs will make their best pitch to the panel of five Shark investors who will use their own money if they choose to invest. The Shark Investors negotiate on the spot without any previous information, which differs from typical negotiations between venture capital investors and entrepreneurial start-ups.
Companies pitching the Shark Investors must go through a rigorous due diligence process before an on-air deal is completed. Shark Tank Blog follow ups help you keep track of the companies that end up successful and the ones that don't complete their deal.
Thank you for reading SharkTankBlog, the number one site for Entrepreneurs, Investors and Fans. Our content updates multiple times day, giving you the latest information on Episode 1118, Season 11, and all other seasons and episodes.
Episode 1118 Press Release
Shark Tank: Episode 1118 (3/13)
March 2, 2020
ONE SHARK REVEALS THEIR COMPANIES HAVE EARNED OVER A BILLION DOLLARS IN RETAIL SALES ON AN ALL-NEW EPISODE OF ABC'S 'SHARK TANK,'
FRIDAY, MARCH 13
"Episode 1118" – Can a mother from Los Angeles, California, recover when the sharks discover the huge amount of money she has spent on her healthier beverage alternative for kids? An entrepreneur from Lakewood, New Jersey, believes he has the next AirBnB, while mothers from San Antonio, Texas, believe they have found the way to maintain peace and calm on car rides with kids. Brothers from Woodbury, Minnesota, present their portable and multifueled outdoor design to help you achieve authentic flavor when cooking a traditional Italian dish on "Shark Tank," FRIDAY, MARCH 13 (8:00-9:01 p.m. EST), on ABC. (TV-PG) Episodes can also be viewed the next day on demand and on Hulu.
In a "Shark Tank" update, Julia Cheek from Austin, Texas, updates her investor Lori Greiner on Everlywell, an at home test that empowers people to order, self- collect and understand their own lab tests to reduce chronic disease.
The Sharks in this episode are Mark Cuban, Kevin O'Leary, Lori Greiner, Barbara Corcoran and Robert Herjavec.