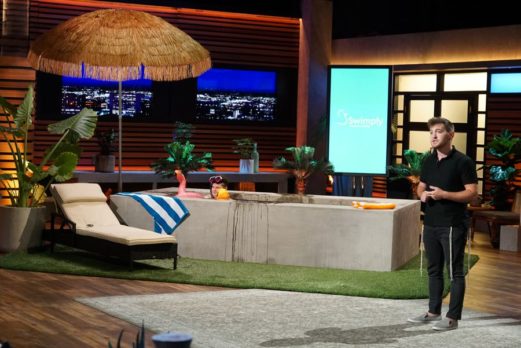 Bunim Laskin wants to make a splash in the Tank with Swimply, his "AirBnB for Swimming Pools," in Shark Tank episode 1118. Laskin first got the idea at age 14 when he felt his outdoor activities were restricted in his suburban New Jersey home. He grew up in Israel which had a lot easier access to parks and outdoor activities for kids.
One day he noticed his neighbor's pool was only used when her grandchildren visited. He approached the neighbor and asked if he could use the pool. She said yas and Laskin's family agreed to pay her 25% of her maintenance fees (electricity, chemicals, etc) every month. In a couple of weeks, the neighbor had cut similar deals with a half a dozen other families; she was making money with her pool!
A lightbulb went off in Laskin's head and he started a small business called PoolForU with his Bar Mitzvah money. He found 80 area pools and approached each pool owner with his pool sharing idea. Within a few weeks, he had 30 pools signed up and 150 customers to rent the pools by the hour. After getting featured on MSNBC, his website crashed!
In 2017, Laskin returned to Jerusalem for college, but he quickly dropped out to return to the US and start Swimply, an app that would allow his original concept to go national. He originally targeted New York, New Jersey, Pennsylvania, Miami Beach, Los Angeles, Dallas, and Houston. Now, he has over 2000 host pools for Swimply nationally with over 17,000 registered users.
The Money in the Pool
Swimply vets every pool with a health and safety inspection. Once a pool is vetted, it gets in the system. Pools rent for anywhere from $40 per hour to over $300 an hour for exceptional, resort style pools. Swimply takes 15% of the rental fee from pool owners and charges renters a booking fee. Pool owners use the app as a way to recoup the costs of pool ownership while renters have a relatively inexpensive way to enjoy a private pool with a group of friends or family. The average group size is 6-8 people, so for a 2 hour pool rental, it's fairly economical.
For now, both pool owners and renters sign a liability waiver. Swimply hopes to work out the insurance issue in the near future to provide an added layer of liability protection. LAskin hopes his app is the next big thing in sharing economy applications. He knows swimming with the Sharks will help him get there.
Company Information
Video

Posts about Swimply on Shark Tank Blog
Swimply Shark Tank Recap
Bunim will pitch the panel of five Sharks on the business and its prospects for growth. He'll need to convince Mark Cuban, Kevin O'Leary, Lori Greiner, Barbara Corcoran and Robert Herjavec that the company is worthy of a Shark investment. A good business plan, good financials, and sales data will impress the Sharks, but he'll need to show them HE is capable of running the company to "Shark standards." A full pitch re-cap on Swimply will be available on Shark Tank Blog once this episode airs.
Swimply Shark Tank Update
The Shark Tank Blog constantly provides updates and follow-ups about entrepreneurs who have appeared on the Shark Tank TV show. Once an episode has aired, we monitor the progress of the businesses featured, whether they receive funding or not and report on their progress. The Shark Tank Blog will follow-up on Swimply & Bunim Laskin as more details become available.