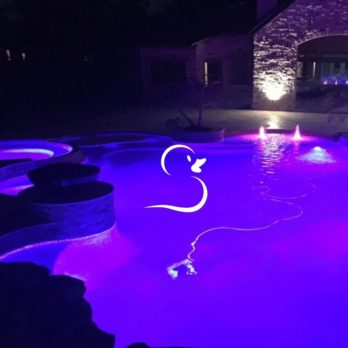 When Bunim Laskin saw his neighbor's new swimming pool at age 14, little did he know it would become a business. He asked the neighbor if he could use her pool. She agreed if he'd help with 25% of the maintenance costs. He agreed, and he was impressed that the neighbor made the same deal with five other neighborhood families. Laskin's neighbor was actually making money "renting" out her swimming pool.
The enterprising 14 year old saw an opportunity and started a peer to peer pool rental business in his area in 2014. It was called PoolForU and he quickly had 30 odd pool owners and around 150 customers signed up. When CNBC did a feature on this new idea, his website crashed.
Laskin went to Israel to attend college, but he didn't stay long. He came back to the US to start his new business called Swimply. Swimply is "the AirBnB of swimming pool rentals." Pool owners can rent their pool out by the hour through the app and customers can find an area pool to swim in at a relatively low price.
Swimply takes a booking fee from the customer and 15% of the rental from the pool owner. Owners love the app because they can offset (or in some cases eliminate) the expense of running a pool. Rentals cost anywhere from $40 per hour to over $300 per hour for fancy pools. Both customers and owners sign a waiver, but Swimply is exploring getting insurance to cover liability.
Currently, Laskin has over 2000 host pools in the app with around 17,000 rental customers. He believes this could be "the next big thing" in the sharing economy and he wants a Shark's help taking it to the next level.
My Take on Swimply Swimming Pool Rental
I own a pool, so I wouldn't be a renter, but I am interested in the hosting side of things. I spend about $40-50 per month on various chemicals for my pool and around $50-$175 per month on electricity for the filter pump. The cost goes way up to the $175 side in the summer when the pump is running 18 hours a day. I could see how renting my swimming pool out for 4-5 hours could easily eliminate my costs.
My concerns are liability and who is coming on to my property. Without insurance, anyone could sue the crap out of me if they got injured on my property – even if they signed a waiver. I'm also concerned that unsavory types could come onto my property with bad intentions. Swimply says they are working on both of those challenges and, once they iron that out, I may list my pool!
Will Sharks want To Swim in This Pool?
I think Laskin will impress the Sharks. Swimply is the first peer to peer pool rental company and the idea seems to be catching on. Being first in the space is a big advantage and the Sharks know how well AirBnB type businesses can do. If Laskin has good numbers and is a sharp cookie, he'll entertain offers.
My guess is Robert and Mark are most likely to show interest, though Lori has been dipping into tech businesses the past few seasons. I think Swimply gets a deal, the question is, which Shark?