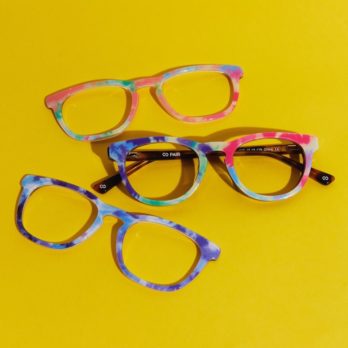 The inspiration for Pair Eye Wear came from co-founder Nathan Kondamuri's experiences wearing eye glasses as a child. He was a little scared by the prospect and bored by the styles offered at the time. Nathan and Pair co-founder Sophia Edelstein met while attending Stanford. Nathan was a mechanical engineering student and Sophia studied biology. They started talking eye glasses one day which gave them the initial idea for their business.
After speaking with hundreds of parents and kids about their experiences with eyeglasses, they came up with their idea. Pair Eye Wear features glasses for kids in five styles. The hook is you can customize the glasses with magnetically attachable frame covers in a wide variety of colors and designs. This lets kids switch things up with their glasses whenever they want.
The two young entrepreneurs wanted glasses to be affordable, too. When they enlisted the help of Lee Zaro, a 25 year veteran of the eyewear industry and former Head Of Product Development Production And Sourcing at Warby Parker, they knew they had a solid business idea. With the help of Zarrow and support from the Cardinal Ventures incubator and Lean Launchpad at Stanford, the company was off and running in 2017.
They used some of Warby Parker's business model to structure Pair Eyewear. When you order, you receive five frames in the mail so you can choose one of their five styles. Unlike Warby, Pair's frames are cardboard so customers don't have to go through the hassle of shipping the frames back. Glasses are just $95 per pair and the decorative frame covers cost $35 each. In another Warby-like marketing ploy, Pair donates a portion of each sale to The Eyelliance, an organization that provides glasses to underprivileged kids all over the world.
Nathan and Sophia have raised a little over $1 million from venture capitalists, but they'd like more funds, and a Shark to get to the next level. Perhaps a Shark won't need glasses to see if this is a good investment.
My Take on Pair Eye Wear
One of my daughters and my wife wears glasses. My daughter's glasses were almost $700 when she recently got a new pair. Thank goodness for my wife's employer funded HSA! We spent over an hour picking her glasses out, but she was ultimately happy with her choice.
When I showed her the Pair Eye Wear website, her remark was "I wish they had these when I was younger." Bright colors and funky designs were what she liked when she first wore glasses at age nine, but now her tastes are more sophisticated. As a kid, she likes the idea of changing up the look of her glasses, as a parent, I like Pair's prices. I'm in.
Will Sharks See Opportunity?
This is a well run company with a product that's always in demand. Their price point and concept are spot on and poised for much greater success. The company should attract a bid or two, but there are two big possible objections.
The first is they are a venture funded company. This can be tricky in the Tank as the founders often give away portions of their business in the venture funding rounds. This can dilute valuations and make their ask less attractive to the Sharks.
The second is Warby Parker is going to get into the kids' eye glasses business. Once considered a disrupter in the eye wear business, Warby is now a very big player in the glasses game. They could – as Mr. Wonderful likes to say – "crush them like cockroaches."
Still, any one of the SHarks could take a flyer on this business. My guess is Robert or Mark would be the best Sharks for this company, but I'm on the fence as to whether Pair gets a deal.