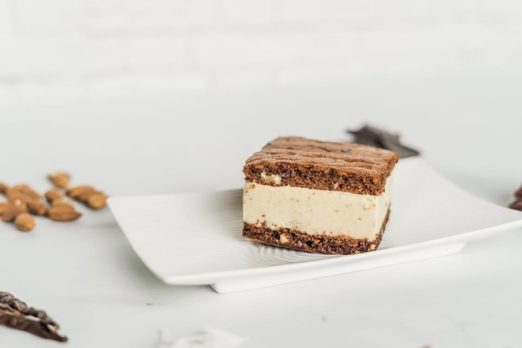 Francheska "Frankie" Yamsuan is The Coconut Girl. It's hard to separate her from her brand because she is so immersed in the making and marketing of her product which goes by the same name. Coconut Girl is the name of her Paleo Ice Cream sandwiches. She started making them as a snack for herself, then things got interesting.
Frankie was a coconut milk smoothie junkie who also likes dates (the fruit). One day, she threw a smoothie and some dates into an ice cream maker and the results were delicious. She started sharing the ice cream with friends at the gym and, before long, she was making pints for her friends and fellow gym members. When she started thinking about turning her ice cream hobby into a business, she decided to make ice cream sandwiches.
All three flavors – Aloha Chocolate, Hang Loose Vanilla and Beach Bum Maple – are made with her signature coconut milk ice cream and "cookies" made with almond flour and almond butter. She sweetens The Coconut Girl treats with dates, honey, & maple syrup -NO SUGAR. Frankie cultivates the southern California beach vibe associated with her products , but she hopes to take the vibe national.
Right now, The Coconut Girl is only available in southern California, Nevada, Hawaii and Arizona super markets and convenience stores – including Whole Foods. She doesn't sell online at all. Obviously, Frankie wants to grow the Coconut Girl brand and expand her distribution. She's hoping a Shark will help her with that.
My Take on Coconut Girl
I like healthy treats as much as the next guy. While I'm not the type to keep a freezer full of frozen treats, I like to indulge on occasion. The Coconut Girl ice cream sandwiches sound delicious. Reviews are nearly unanimously positive, too.
With more and more people trying to eat better, products like this – especially if they're tasty – can easily find a niche. The trick is getting good PR and solid distribution. If Frankie has production all figured out, a Shark should be able to super charge this business quickly.
Will Sharks Go Nuts over Coconut Girl?
Based on some videos I've seen of her, Frankie appears to be a very likeable, energetic entrepreneur. If the Sharks like her product and her numbers, she could see a bid or two. The problem is she's in a space that this particular group of Sharks – except for Mark and Lori – doesn't like to invest in.
Frozen foods are a tough business and the "shelf space" in markets comes at a premium. Mark invests in some healthy food businesses, but mostly ones that sell online. Frankie would need a really good valuation to get him interested. Mr. Wonderful and Robert will likely pass due to the distribution issues; there are too many moving parts for them. Katrina Lake is a wild card, but Lori has invested in super market consumables in the past. I'd say Frankie's chances of getting a deal are 50-50.