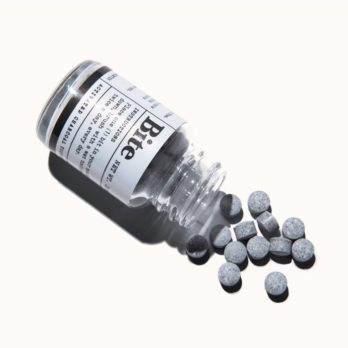 Lindsay McCormick first started making Bite Toothpaste Bits in her apartment for her own personal use. Lindsay is an environmentally conscious person who hated seeing the waste in her world travels as a TV producer. The thing that bothered her the most was toothpaste tubes. They're plastic and not recyclable, plus most toothpastes contain some harsh chemicals.  So she set out to find an eco-friendly, all natural solution to the problem.
Lindsay experimented and came up with a formula utilizing sodium bicarbonate, activated charcoal and other 100% natural ingredients. She pressed the concoction into little "toothpaste bits" which she'd eventually sell as Bite. In the early days of the business, which she officially started in 2018, all her production was done in her apartment. She'd press the toothpaste bits, place them into recyclable glass bottles, label them and ship them off.
A funny thing happened in those early days: a video of her product went viral and she was inundated with orders. She simply couldn't keep up with production and had to find a suitable facility to manufacture her product. Luckily, she found a manufacturer in LA that could accommodate her. Now, in addition to the toothpaste, she sells compostable bamboo tooth brushes too. Everything Bite sells is made in the USA.
If you order a one month supply of Bite on the subscription model, it costs $7.50 per month. A one-time order is $12. The toothbrushes are $12 or $4 per month on a subscription basis. The bits come in three flavors: fresh mint, fresh mint with activated charcoal and the all-new Berry Twist (for kids). You can find all Bite products on Amazon and the company website. Lindsay has no debt and she completely bootstrapped the entire business. She likely wants a Shark to help take things to the next level.
My Take on Bite Toothpaste Bits
Everyone brushes their teeth (I hope), so this is a universal product. We try to be as eco-friendly as we can in our home and Bite fits the bill. The less single use plastic we put into the waste stream, the better. I am going to try this out. I have a prescription toothpaste I use for periodontal issues which I'll need to keep using, but I can try Bite too.
It's my hope major consumer goods manufacturers start packaging like this. While Lindsay's efforts are admirable, it needs to be done on a large scale to make a real difference. Still, great change has to start small and I commend both her motivation for making the product and her business acumen for making it work. I am very much IN!
Will Shark Bite?
Lindsay has a good story and if she has the numbers to back it up, she should field an offer or two. I don't think Mark will bid since he has a conflict of interest with NOHBO, a consumer goods delivery mechanism he invested in in season 7. Mr. Wonderful will likely trot out a royalty offer if he chooses to bid.
I'm not sure what Katrina Lake will do, but it seems the guest Sharks are actively bidding this season, so I wouldn't be surprised if she threw her hat in the ring. Lori does well with consumer goods, so she could bid. Robert may also bid since Lindsay has a direct to consumer, online business, which he likes. Other than Mark, I can see any Shark bidding, the question is, which one does the deal?