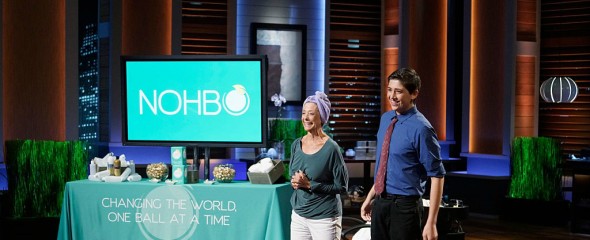 Benjamin Stern pitches NOHBO Balls, his water-soluble balls for packaging shampoo and other personal care products, in Shark Tank episode 717. Stern, who is 16 years old, got the idea while watching a video about plastic waste in his 9th grade classroom. He began brainstorming about ways to solve the problem and got inspired by his mother's laundry detergent pods and figured he could put shampoo and other personal products into a similar delivery system.
Essentially, the NOHBO Ball is a small ball with shampoo, conditioner, or soap inside. Each ball contains enough product for a single use. When the approximately one inch diameter ball is put under running water, its membrane dissolves and releases a semi-dry substance that lathers easily with the water. Stern's strategy is to sell his own products inside his NOHBO Balls at first, but he wants to license the technology to large companies. He's starting a test run with some large hotels and hopes to have everything up and running by October 2016.
He tried to get funding on Kickstarter, but he was unsuccessful. Instead, Benjamin got a job, borrowed from family and friends, dipped into his college account and acquired $20,000 in pro bono legal services from an area law firm. After getting a chemist to develop the product, he got several patents. Now, Stern is ready to go into production. He likely wants a Shark to help with distribution and licensing.
Will a Shark get on the ball and invest?
NOHBO Shark Tank Recap
Ben opens with at home segment. He lives with mom and grandma – who he calls Bubbe. Bubbe was his first investor. Ben says his generation takes the environment seriously. Bottled bathroom products are a big source of litter and he wants the Sharks' help to get his products into every store in the USA.
Ben enters with Bubbe and says "hello predators of the sea." He's seeking $100K for 20% of the business. He says he's changing the way you clean shiny locks. 4 out of 5 people in the USA don't recycle bathroom packages. That waste would fill 1200 football stadiums. With NOHBO, people never have to use plastic bottles for bathroom products again, and his NOHBO balls cost less.
Next, Ben washes Bubbe's hair with a shampoo ball. He needs an investment to license the product. When he hands out samples, Lori breaks a ball apart. He developed the product with help from someone at Clorox's head hunting group. Mark is impressed Ben called him out of the blue. Mark says "a lot of people come on Shark Tank looking for contacts, you made the calls yourself."
The Clorox guy said he wanted samples, so Ben contacted a freelance chemist and got some made. Mark applauds Ben again for his effort. Right now, they are hand pressing the balls. Ben thinks the patent is defensible. He says NOHBO stands for "NO Hair BOttles." He's creating a new product delivery system he wants to license to big companies. They currently cost six cents each, but he can get the cost to four cents; he sells them for twelve cents.
Mark says hotels don't want to educate consumers, he thinks Ben should go direct.  Lori says never sell something until you license the product. She thinks it's too early; she's out. Mr. Wonderful uses a certain shampoo and thinks the patent is everything, but its a long journey; he's out. Robert says if the patent is real, it's a good deal; he offers $100K for 20% contingent on the patent being granted.
Mark says he loves it and Ben reminds him of himself. He says he has a lot of lawyers and OEM manufacturing expertise with HotTot and Kisstix. Mark will also take over all the accounting, too. He offers $100K for 25%. Robert says it may be the best idea ever in the Tank, but it needs to be sold as a business mechanism. Barbara offers $100K for 20%, contingent on Estee Lauder doing a deal with Ben. Ben thanks everyone and says, "Mark, we have a deal!"
RESULT: DEAL with Mark for $100K for 25%
NOHBO Shark Tank Update
Even with a Shark on board, some products suffer some stumbles along the way. NOBOH got off to a strong start with Mark's support but ran into some shipping delays and other challenges along the way. In early 2016, there were a number of comments on the social media pages from disappointed customers who claimed the balls did not hold their shape. Shipping delays were another common concern.
Things were looking up for Benjamin in August when Governor Rick Scott of Florida awarded Benjamin with the Young Entrepreneur Award, saying "I look forward to seeing NOHBO continue to grow here in Florida."
With a Shark and a governor on his side, it seems as if Benjamin can't help but prosper. His future plans include expanding his line of personal care products and improving the NOHBO balls themselves before licensing the idea out to major shampoo and conditioner companies. It's too soon to tell if NOHBO will be a hit. Benjamin may be a bit wet behind the ears at 17, but his determination and innovation will serve him well going forward.
In 2018, Stern pivoted and stopped using the powdered form of balls. There were too many problems. He teamed with a chemist closer to his Melbourne, Florida headquarters, switched to a gel format and re-branded the product NOHBO Drops. As of March, 2020, Stern has 76 million purchase orders scheduled for the next four years in Europe and he just closed a $3.5 million round of venture funding. NOHBO gets an update segment in season eleven, episode 1115.
In the update, he tours his factory and reveals another round of funding. Mark thinks it could be a $100 million company in the next few years.
In May, 2022, Stern rolled out his own consumer brand called Sunrise Session which features NOHBO like products. The business won the People's Choice Award at the New York Society of Cosmetic Chemists Suppliers' Day 2022 in New York City. As of November, 2022, Stern has licensed his technology to over 60 companies. Annual revenue is over $8 million.
Posts About NOHBO on Shark Tank Blog
NOHBO Company Information
Video