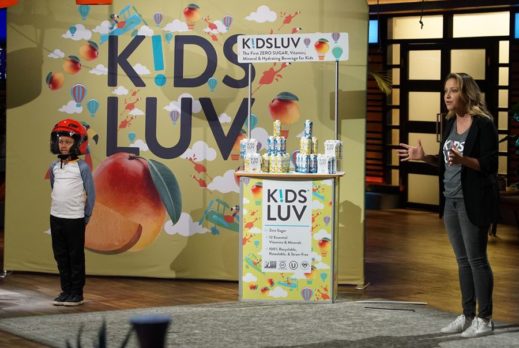 "Juicetrepreneur" Ashi Jelinek hopes the Sharks like KidsLuv, her sugar free, eco-friendly juices for kids that are packed with vitamins, in Shark Tank episode 1118. Ashi first got the idea for Kids Luv while attending her son's soccer game. She noticed parents watering down juice to give to their kids. That got her looking at the ingredients and she found most juice drinks have a lot of sugar and little nutritional value. That got her thinking – and experimenting.
In 2016, Ashi took the plunge and started her business. She describes KidsLuv as a "juice alternative." She skips sugar altogether, sweetening with Stevia instead. Each of the four flavors – coconut, mango, guava, and orange peach – are blended with water, coconut water, essential vitamins and minerals, and natural flavors. Ashi puts her juice in Tetra Pak paper containers which are 100% recyclable.
She's been making the rounds at beverage industry events for the past several years and is just starting to get traction. A sixteen pack costs  $37.99 – almost $2.40 a serving. KidsLuv is available in 21 stores in southern California and 4 stores in the San Francisco area. She also sells the product on Amazon and other online outlets. For a kid's juice product to be competitive in a market dominated by big players, it needs to be on store shelves. She likely wants a Shark to help her with that.
Company Information
Video

Posts about KidsLuv on Shark Tank Blog
Kids Luv – Vitamin Enriched Sugar Free Drinks for Kids
KidsLuv Shark Tank Recap
Ashi enters the Shark Tank with her son Phoenix seeking $200,000 for 8% of her business. She gives her pitch and then hands out samples. Each Shark gets a Flying Fla-mango and a Star Struck Coconut; the Sharks like them. She sweetens it with Stevia. Mark and Barbara notice the Stevia aftertaste. Right now she's selling in independent grocery stores. The product is shelf stable for a year.
Since February, 2018, she's sold $50,000 worth of product (the segment taped in June, 2019). So far, she's spent "give or take, $150,000-$200,000." The Sharks want to know which is the correct number. She says closer to $200,000. She raised $1 million a friends and family fundraising on a $3.5 million convertible note. The Sharks do not like that news.
She claims she's in talks with a big box retailer to do a test. She only has $50,000 left in the bank, which further horrifies the Sharks. She's spent $150,000 on lawyers to protect her formula in the US and internationally. Another $57,000 was spent on the manufacturing run. Now she's ready for distribution.
Barbara says Ashi's investors are owning her mistakes; she's out. Mark says she's not doing the selling, he's out. Kevin doesn't have any sell through data; he's out. Robert admires how she stands her ground, but she's not out there selling. He's nervous about giving her more money; he's out. Lori is the last Shark out and Ashi leaves with no deal.
KidsLuv Shark Tank Update
The Shark Tank Blog constantly provides updates and follow-ups about entrepreneurs who have appeared on the Shark Tank TV show. This episode aired just days before the entire world went into Covid-19 lockdowns. Despite that, Ashi pushed forward. The company introduced a new flavor: Peach Me, I'm Orange. As of July, 2021, just a year and 4 months after the original air date, the company made huge progress. You can now find KidsLuv in Wal Mart, Target, Thrive Market, H.E.B., Good Eggs, Stop & Shop, King Soopers and Amazon.
In May, 2022, the company introduced a new flavor called Beary Berry. By January, 2023, the products were in over 2000 stores nationwide including Target. Annual revenue is $5 million.