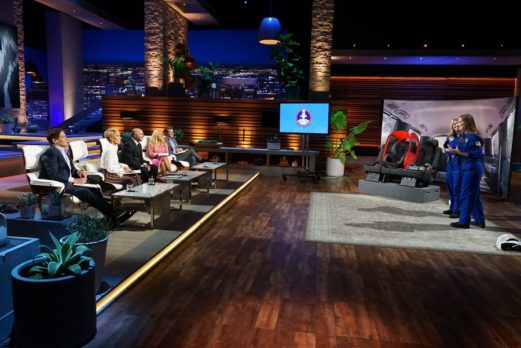 Space Traveler inventors Krissy Pruske and Rachel Lincoln are lifelong friends who turned to entrepreneurship after both moving to San Antonio, Texas. Both moms, they collaborated on ideas to make life easier on families with kids. Their first product was Sleepyheadz, a "nap mat and pillow," which they launched in 2013.
Before a cross country trip with her family in 2018, Krissy was brainstorming ideas on how to keep her kids from fighting in the back of the family minivan. She decided to create their own little spaces with collapsable laundry hampers. The hampers worked OK, but on the next trip, she used collapsible dog kennels. This worked very well and provided the impetus for the first prototype of Space Traveler.
Space Traveler is like a mini tent for a single child in a car. It separates the kids physically, creating their own personal environment. Inside there are pockets for snacks and electronics. Each unit fits  on any standard car seat and most child car seats. They collapse and fit in a tote bag for easy transport and storage, too.
Krissy and Rachel just designed their first prototypes in 2018 before making the cut on Shark Tank. They haven't produced any product yet, but they're taking pre-orders on their website. It's regularly priced at $39.95, but they have a "Shark Tank Special" at $29.95. Since they really aren't selling any product yet, they need a Shark's cash to get their business up and running from ground zero. Will a Shark help this start-up travel in the kids' accessory space?
Company Information
Posts about Space Traveler on Shark Tank Blog
The Space Traveler – Personal Space for Kids
Space Traveler Shark Tank Recap
Krissy and Rachel enter the Shark Tank seeking $100,000 for 33% of their business. They tell their story and give their pitch, then they invite the Sharks onstage to try it out. They reveal they are just in the prototype phase, which doesn't thrill the Sharks. Barbara is the only Shark interested. She compares them to The Comfy, who was also in the prototype phase in the Tank; that company has over $150 million in sales. Barbara offers $100,000 for 33% plus a $2 per unit royalty until she gets her money back. They accept.
Space Traveler Shark Tank Update
The Shark Tank Blog constantly provides updates and follow-ups about entrepreneurs who have appeared on the Shark Tank TV show. The deal with Barbara never closed. In December, 2020, they sold out of all their initial inventory. As of July, 2021, they are still listed as "sold out" on their website.