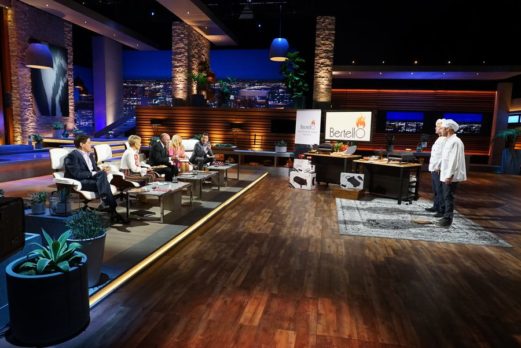 Andy and Eric Bert hope to cook up a deal for their eponymously named Bertello Pizza Oven in Shark Tank episode 1118. They originally called it the Napoli Pizza Oven, but recently changed the name to Bertello. The product itself is an outdoor, mini pizza oven that runs on gas, charcoal or wood. It makes Neapolitan pizza in less than 90 seconds.
Most outdoor pizza ovens are huge, very expensive and not portable. The Bertello oven is only slightly bigger than a large pizza, so it's easily moved. It claims to heat to 900 degrees Fahrenheit, which makes for pizza crust that's crispy on the outside and soft on the inside.
They got their first batch of sales with a successful Kickstarter campaign that raised $207,267 in July, 2019. While delivery problems were a fairly big issue initially, they seemed to have worked things out and delivered their product. In addition to pizza, you can also cook meats in the oven.
Bertello sells on Amazon exclusively. An oven with pizza stone costs $299. The propane converter attachment will cost you $85 and a pizza peel, for moving the pizza in and out of the oven, costs $25. There are other low-priced pizza ovens on the market and certainly many very expensive ones. Bertello wants to be THE low price leader in the portable pizza oven business, with a Shark's help.
Company Information
Video

Posts about Bertello on Shark Tank Blog
Bertello Shark Tank Recap
Andy and Eric enter the Shark Tank seeking $120,000 for 10% of their business. They show off their oven and cook up some pizza. It's a corny pitch, that has the Sharks laughing when Andy slaps a pizza in Eric's face. Kevin calls it "good bad theater." They invite Kevin up to cook a pizza while the other Sharks munch on some pizza. It takes about 2 minutes to cook his pizza. All the Sharks like the pizza. They are the only multifuel pizza oven on the market.
They sell them for  $250 and they cost $84 landed. Net margins are 33%. This year (2019) they sold $640,000 – mostly on Amazon – with $400,000 coming in the last three months. They have $90,000 of their own money into it and they borrowed $70,000 at the beginning of the year for inventory and they just paid that back. Eric, a structural engineer, owns 80% of the company and Eric who is in finance owns 20%.
Mark sees it as a consumer product and it's not a business he wants to be in; he's out. Robert loves the pizza but he's not excited about it; he's out. Barbara likes the pizza too, she wants to know what happened to his energy level.  She loves the product though and she offers $120,000 for 25%. Kevin said he'd get behind this as "Chef Wonderful" and offers $120,000 for 30%. Andy counters Mr. Wonderful at 25% and they do the deal with Kevin.
Bertello Shark Tank Update
The Shark Tank Blog constantly provides updates and follow-ups about entrepreneurs who have appeared on the Shark Tank TV show. The deal with Kevin appears to have closed. The product continues to be a big seller on Amazon. As of June, 2021, they are doing over $3 million in annual revenue.
The company gets an update segment in episode 1307. In the updates, they say they did $75,000 in sales within 24 hours of their air date. 3 days later, the Covid-19 pandemic lockdowns went into effect. They did a huge pivot to digital marketing and it boosted sales. They did $640,000 the year they pitched to the Sharks (2019). 16 months later, they hit $6.3 million in sales.
Kevin shows up as "Chef Wonderful" and says they've sold thousands of units on QVC. Andy and Eric advise entrepreneurs to love the product they're developing. They say the most rewarding thing about their ovens is they bring people together.
As of December, 2022, they are still going strong with $4 million in annual revenue.