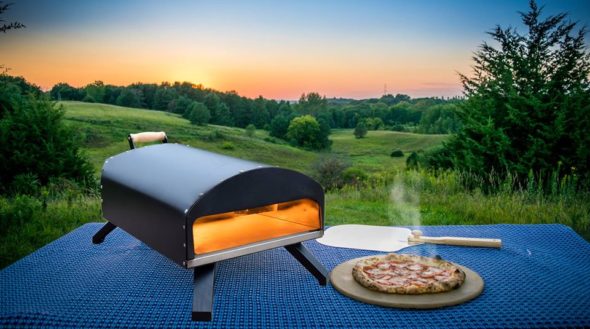 Brothers Andy and Eric Bert unveil their Bertello Pizza Oven with the hope a Shark will help them bring it to the masses. The Berts began designing portable, outdoor pizza ovens a couple of years ago. A pizza oven is supposed to get to a 900 degree temperature to give the crust that crispy exterior you just can't get from a regular oven. Most pizza ovens cost $1200 and up, so, at $299, the Bertello Pizza Oven is an economical alternative.
Their oven runs on wood, charcoal or propane gas. It's small profile – 22 x 14 x 10.5 inches and 26 pounds – makes it very portable too. The Berts got a lot of money from Kickstarter in 2019 to get production off the ground. They had issues with delivering the product, but they appear to have been resolved. Back then, it was called The Napoli Pizza Oven. They recently changed the name to Bertello.
Each oven comes with a pizza stone included for the $299. Extras like a propane conversion kit and a pizza peel bring the total cost to a little over $400. The company sells on Amazon exclusively. Reviews are mixed. Nearly 15% of the reviews are negative, but when you peel back the content, the negative reviews appear to come from people who don't understand how to use the oven. Positive reviews rave about the pizza quality and ease of use.
There are other, low priced pizza ovens out there, but Bertello seems to have the best product under $500. They want to bring their product to mass retail and they hope a Shark will join them on this journey.
My Take on the Bertello Pizza Oven
I LOVE pizza, especially when it's cooked in a wood-fired brick oven. The consistency of the crust and the slight smokey flavor make for the best pizza you can eat. I have a friend who built his own brick pizza oven in his back yard and he makes better pizza than 99% of the restaurants out there.
I think there is a market for such a product because pizza is so popular. Frozen pizza and take out just don't cut it for a lot of people. When we want pizza here in Florida, we go to a local brick oven joint. If I had a solid pizza oven at home, we'd probably have pizza more often. I would be willing to give this a try.
Will Sharks Cook Up a Deal?
Sales, beyond the Kickstarter sales, will be a big determining factor on whether the Berts get a deal or not. I'm not sure which Shark would have interest though. It's a bit pricey for Lori's wheelhouse and other Sharks may feel the same way. I'm unsure which Shark might show interest.
One thing that could screw up a deal is the product demonstration. In a video preview of this segment, the oven actually bursts into flames. That's NOT what you want to happen on the Shark Tank! Any oven prone to fires, particularly a propane fueled oven, will not attract a lot of investors. I think the whole pitch will go up in flames along with theoven.