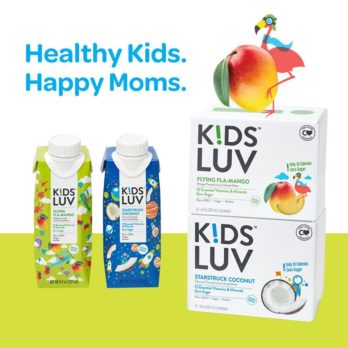 Like all great ideas, Ashi Jelinek came up with the idea for Kids Luv at a youth soccer game. She noticed parents watering down sugary juices to refresh their kids between quarters. That caused her to take a close look at the kinds of drinks she was giving her own kids. She didn't like what she found: lots of sugar and very little, if any, nutritional value. She was feeding her kids sugar water.
This prompted her to start experimenting. She blended water, coconut water, essential vitamins and minerals, natural flavors and sweetened it with Stevia. The result was KidsLuv. In 2016, she took the plunge and started packaging and selling the product. She has four flavors: coconut, mango, guava, and orange peach. In keeping with the "all natural" theme, she packaged it in recyclable Tetra Pak containers.
Getting a juice – or rather juice alternative – on the market is a tough go in a space dominated by big players, but she continues to persevere. After four years, dozens of beverage industry events and God knows how much of her own money invested, she's only in a couple of dozen stores in southern California. She's hoping a Shark will help her take Kids Luv to the next level and get her into hundreds, if not thousands, of stores.
My Take on Kids Luv
My kids have probably tried every juice and/or beverage out there over the years. I was always more concerned with what was on sale than what was in the container. That said, I looked (and still look for) beverages and juices with 100% juice and no corn syrup. Water is always a solid alternative to sweet drinks in our home.
I like what Ahsi is doing, but I have issues with the cost. At nearly $2.50 a container, it's very pricey, especially if you have multiple kids. I believe there is room for such a product on the market and people would buy it, but the current pricing would cause many parents to take pause.
Will Sharks Drink This Kool Aid?
My sense is there aren't very good sales numbers for Kids Luv and that could cause the Sharks to take a pass. Ashi has been in the business for four years and only has product in 24 stores so far. That's not a lot of market penetration and can't reflect strong sales.
Based on some pre-show press about this segment, it doesn't appear things will go well for Kids Luv. Here's a quote from the ABC press release for this episode: "Can a mother from Los Angeles, California, recover when the sharks discover the huge amount of money she has spent on her healthier beverage alternative for kids?" A video preview of this segment shows Mr. Wonderful dressing Ashi down about her business, too. This pitch has the potential to be a train wreck. If sales are poor, there will be no deal.