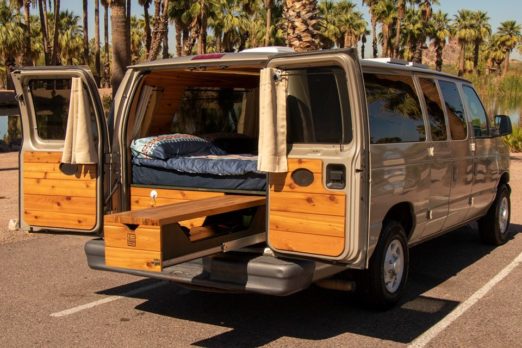 David Sodemann and Brett Ellenson unknowingly started Boho Camper Vans when David returned from a trip to Maui with company co-founder Sarina Gomez. The couple rented a custom camper van to explore the island and they wanted one of their own, so they built one. To help pay for it, they offered it for rent on Outdoorsy, a kind of AirBnB for camper vans.
They immediately started making money renting their vans, so they decided to build more. As they got more exposure, people approached them about building custom vans for them. Now, they do both: they have seven vans for rent on a regular basis and they build custom  camper vans for anyone who wants one.
The rental business is pretty straightforward: pay them money, rent the van and have fun exploring the Arizona outdoors. On the custom side, they'll trick out any van you send to them. For $25,000 to $40,000 (not including the van) and up, (depending on features, They'll build you the van of your dreams. Most build outs are in used vans, they look for solid used Ford E350's and Dodge Ram 3500 vans to customize.
All vans feature cozy wood paneling, a double bed, sinks, shower, grill and cooler. Other amenities are only limited by the customer's imagination. They build in outdoor showers, even a fusball table! In a relatively short time, they've made a name for themselves in the Tempe, AZ area and they'd like to expand both sides of their business on a wider geographical scale. A Shark could help them with that.
My Take on Boho Camper Vans
My first thought when I saw this business was Chris Farley and his "LIVING IN A VAN DOWN BY THE RIVER" bit. On a more serious side, I always liked camping and seeing the countryside. RV or Van camping is more my speed these days as backpacking is out of the question. The number of people choosing to live the "van life" is growing in this country as folks look for more visceral experiences over material things.
My wife and I have been discussing getting an RV or camper van when our youngest graduate high school. We'd like to hit the road and tour North America (and possibly even South America). Our son went to all 50 states last year, which is what got us talking. In four years or so, when we actually pull the trigger on this journey, we'll give Boho a look.
Will the Sharks Want to Camp Some Cash with this Business?
The valuation and quality of David and Brett as entrepreneurs will have a lot to do with whether they get a deal. Camper vans are not new, nor are businesses that customize them. There are literally dozens (if not much more) of companies that do this. Boho isn't even on page one of a Google search for custom camper van conversions. In short, they don't have a proprietary product.
That could be a problem or not. Expanding the rental business into new markets as an entry to get more custom build business is smart. They could grow while making solid rental income. If that's their plan, and their numbers are good, they could attract an offer or two.