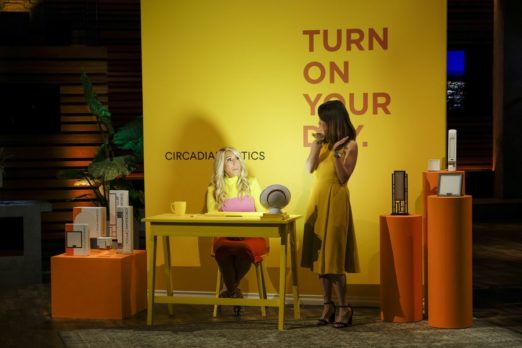 Amber Leong hopes to light up the Tank with Circadian Optics, her bright light therapy lamps, in Shark Tank episode 1102. Leong designed the lamps while working in a dark office in Minneapolis in the dead of winter. The idea was to reset her Circadian Rhythm, the human body's internal clock. Sunlight triggers your internal clock, triggering natural body functions like the sleep/wake cycle.. Without sunlight, people tend to feel tired and sluggish. Seasonal affective disorder is often tied to a lack of natural sunlight.
Circadian Optics lamps help end that sunless cycle people often feel in the winter months. The lamps emit full spectrum light, much like real sun light. You won't get a tan from Leong's lamps, but they can help you feel more alert and awake. The lamps allow you to do light therapy in the comfort of your own home or office. By keeping a light at your desk, you get "sunlight" (without harmful UV rays) all day long – like the human body was meant to. This – Leong claims – leads to energy boosts, improved concentration, enhanced moods and a better sleep/wake cycle.
Light therapy can improve sleep patterns in around 85% of users and there are many University studies to back up that claim. The Circadian Optics lamps come in a variety of shapes and sizes and range in price from $35-$60. With sleek designs and the ability to run on electric or battery power, they let anyone adjust their circadian rhythm virtually anywhere. Leong hopes her idea catches on and she hopes a Shark will help show her the light.
Company Information
Video

Posts about Circadian Optics on Shark Tank Blog
Circadian Optic Light Therapy Lamps
Circadian Optics Shark Tank Recap
Amber enters seeking $750,000 for 10% of her company. The Sharks are inspired by her story. Her parents wanted her to get an education, so they cashed in their retirement funds and gave her $10,000 to emigrate to America to attend Bemidji State University in Minnesota. After the $10,000 was gone, Amber was on her own.
After she demos the product and finishes her story, she reveals she's done $4 million in sales with a whopping 70% profit margin. This excites the Sharks. Two "teams" quickly form. Barbara and Kevin offer $750,000 for 20% of the business. Mark and Lori make the same offer but throw in an extra $50,000 for Amber's parents. Amber does the deal with Mark and Lori.
Circadian Optics Shark Tank Update
The Shark Tank Blog constantly provides updates and follow-ups about entrepreneurs who have appeared on the Shark Tank TV show. This deal did not close (I wonder if Amber's parents got any money). The company is still in business and has an expanded number of designs. The lamps can be purchased on Amazon. As of April, 2022, the company is generating $4 million a year in revenue