Circadian Optic Light Therapy Lamps were designed by entrepreneur Amber Leong to help maintain the body's circadian rhythm. Light, particularly sun light, regulates our bodies sleep/wake cycle. Long, dark winter days – like those Ms. Leong experiences in her native Minneapolis, can leave people feeling sluggish. This is a result of an interrupted circadian rhythm.
Leong wanted something that could help her improve her circadian cycle, so she founded Circadian Optics back in 2016. Circadian Optic Lamps are desk lamps that emit full spectrum light without harmful UV rays. They fit right on a desktop so people can get their daily "dose" of sunlight while they work.
Light therapy isn't some hokey gimmick, it's a real thing. According to The Mayo Clinic: "Light therapy is thought to affect brain chemicals linked to mood and sleep, easing SAD symptoms. Using a light therapy box may also help with other types of depression, sleep disorders and other conditions. Light therapy is also known as bright light therapy or phototherapy."
What differentiates Circadian Optic Lights from the "light therapy boxes touted by the Mayo clinic is the design. Circadian Optics designs sleek, modern looking lamps the look more like a piece of art than a light therapy box. They're reasonably priced, too. At only $35-$60 on Amazon, they're in line with most desk lamp prices. Keong has some sales and she appears passionate about her product. She likely wants a Shark's help taking business to the next level.
My Take on Circadian Optic Lamps
When we lived in Massachusetts, the long winters took their toll on my wife and I. We both felt sluggish in the winter time and my wife had Seasonal Affective Disorder. Since moving to Florida, we haven't experienced that winter sluggishness we used to feel.
If I were in the market for a new desk lamp, I'd probably buy one of these. I write by the pool when it's nice outside, but my home office is (purposefully) dark. I have a desk lamp now, but they break. When I first saw this company, I liked the idea and the concept and thought the prices were reasonable. I'm in.
Do Sharks see the Light?
Based on the "next week on Shark Tank" preview, it looks like Amber gets emotional during her pitch. Still, I'm predicting Amber gets a deal. In the press release photos, there is a picture of Mark and Lori whispering to each other. Then there's this picture: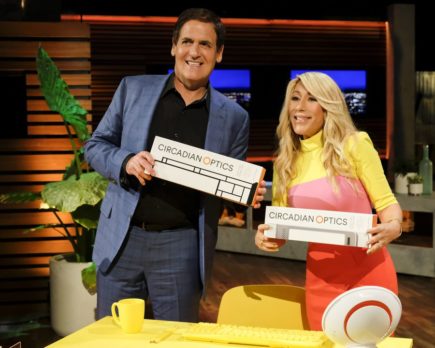 Why would they pose with the product if they didn't do a deal?
Amber may field other offers, but I think she ends up accepting a deal from Mark and Lori who have worked together successfully in the past.