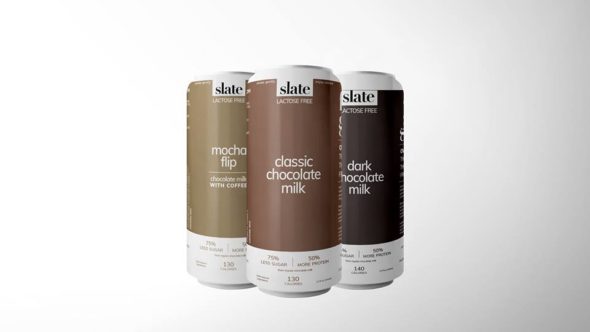 Slate Milk is what you get when two entrepreneurial friends team up to re-invent a favorite childhood drink. Manny Lubin and Josh Belinsky were classmates and buddies at Northeastern University in Boston. Both guys worked for startups after they graduated, but they joined together on a venture to make chocolate milk more appealing to millennials.
Both men grew up drinking chocolate milk, but as grown ups, they felt silly drinking Yoo Hoo from a cardboard box. They also didn't like all the "bad stuff" in their chocolate milk: lactose, sugar,and fat. So they teamed up and decided to make Slate Milk THE chocolate milk aimed at millennials.
The first thing they had to do was fix the milk. Manny and Josh sourced milk from family farms that comply with the Animal Welfare Act. Next, they put it through an ultrafiltration system that strips away fat, sugar and lactose. Then they sweeten it with monk fruit and flavor it with cocoa. The result is REAL CHOCOLATE MILK that's lower in calories than regular white milk. It's protein rich to boot. And the ultrafiltration process gives it a shelf life of up to one year – much more than regular milk.
The second thing they did was make the packaging appealing to millennials. Instead of cardboard boxes, they put Slate Milk in aluminum cans. Aluminum is the most recycled packaging product out there. They gave the cans a sleek, cool look so people wouldn't feel silly drinking it.
To get going with making the product, they raised over $100,000 in a Kickstarter and an IndieGoGo campaign. Now they want a Shark to help them fund more production and assist them in getting onto store shelves. Do Sharks like chocolate milk?
My Take on Slate Milk
I don't drink milk, but when I do, I've switched to almond milk. I have it with chocolate sometimes, too. My go to drink is my own home made iced tea, sweetened with just a touch of lemonade mix. At $3 a can, Slate Milk is a tad pricey, but I'd be willing to try it (I'll try anything once).
Manny and Josh seem to know their market and they have confidence in their product.I think they'll be able to sell to millennials successfully. Since I am decidedly not a millennial (I have some children who are), I probably won't buy this, but I think they'll sell their milk successfully.
Do Sharks like Chocolate Milk?
With branding guru Rohan Oza on the panel, companies like Slate Milk have an opportunity to partner with a Shark that can turbo charge a brand overnight. If Manny and Josh impress Oza, he could bid. Barbara likes food businesses too, so she may have an interest. Other than those two, I don't see any of the other Sharks bidding or bringing value to the table.