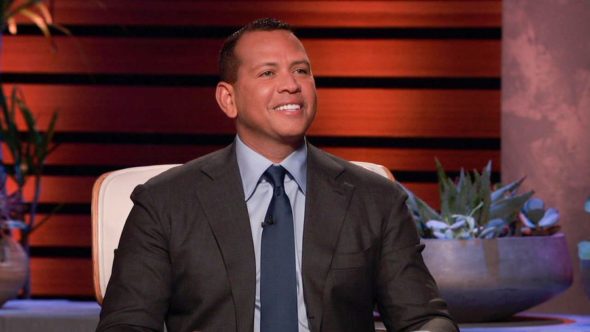 A-Rod joins Mark, Kevin, Lori and Barbara on the panel in Shark Tank episode 1223. The Sharks will hear pitches from entrepreneurs seeking cash to grow their businesses and mentorship from the wealthy investors.
Thomas Fields hopes a Shark will take a shot at Grind, his portable basketball shooting and ball return machine. Karen Nation hopes a Shark bites on Creation Nation, her protein bar mixes that you make at home with a choice of ingredients. Aaron Walls and Brett Vegas seek to disrupt the beer industry with BeerMKR, a product they call "the Keurig of beer making." Chris Pavlica and Kevin Consolo want to clean up in the Tank with SneakERASERS, their product that quickly and easily cleans sneakers and keeps them looking new. Which entrepreneurs land a Shark tonight?
In season 11, Kevin gave Boost Oxygen a $1 million loan at 7.5% interest with Kevin getting 6.25% equity. Tonight, we'll see what Kevin and entrepreneurs Mike Grice and Rob Neuner have been doing since inking this deal.
There are 22  Shark Tank Episodes for Season 12. This season features more appearances by "guest Sharks," including two returning guest Sharks: Alex Rodriguez and Daniel Lubetzky. In addition, two new guest Sharks will appear throughout season 12: Blake Mycoskie, founder of TOMS Shoes and MadeFor, and Kendra Scott, founder of Kendra Scott, LLC, a fashion company she started in her spare bedroom in 2002 with $500. Casting is currently closed, but it never hurts to get a head start on season thirteen! If you would like to appear on the show, check out our Auditions and Casting information.
Episode 1223 – The Shark Investors and Entrepreneurs
The Shark Tank Episode 1223 entrepreneurs will make their best pitch to the panel of five Shark investors who will use their own money if they choose to invest. The Shark Investors negotiate on the spot without any previous information, which differs from typical negotiations between venture capital investors and entrepreneurial start-ups.
Companies pitching the Shark Investors must go through a rigorous due diligence process before an on-air deal is completed. Shark Tank Blog follow ups help you keep track of the companies that end up successful and the ones that don't complete their deal. All33 CEO Bing Howenstein
Thank you for reading SharkTankBlog, the number one site for Entrepreneurs, Investors and Fans. Our content updates multiple times day, giving you the latest information on Episode 1223, Season 12, and all other seasons and episodes.
Episode 1223 Press Release
Shark Tank: Episode 1223
"Episode 1223" – An athlete from Houston, Texas, takes his shot at a deal with the Sharks after introducing his portable basketball shooting machine. An entrepreneur from Los Angeles hopes she hasn't bitten off more than she can chew with her no-bake and nutritious snacks. Two entrepreneurs from Elmore and Chagrin Falls, Ohio, respectively, share how to keep their sneakers clean with their instant cleaner, while a pair of entrepreneurs from Boulder, Colorado, think they have a good idea brewing with their all-in-one beer making device on "Shark Tank," FRIDAY, MAY 7 (8:00-9:01 p.m. EDT), on ABC. (TV-PG, L) Episodes can also be viewed the next day on demand and on Hulu.
In a "Shark Tank" update, season 11 entrepreneurs Rob Neuner and Mike Grice update us on how Boost, their portable oxygen canister company based in Milford, Connecticut, has grown its business while giving back to the community with some help from investor Kevin O'Leary.
The Sharks in this episode are Mark Cuban, Kevin O'Leary, Lori Greiner, Barbara Corcoran and guest Shark Alex Rodriguez.