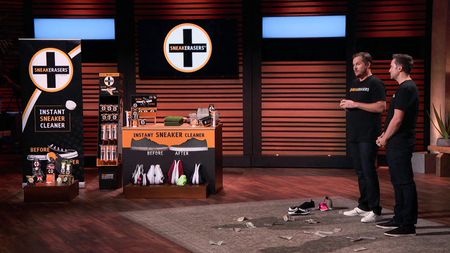 Former Ohio University roommates Chris Pavlica and Kevin Consolo pitch SneakErasers, their easy and convenient way to clean scuffed up sneakers, in Shark Tank episode 1223. The guys used to stay up at night hatching "the next million dollar idea" while in school, but they never came up with one. In 2016 he was pitching a film project to Coca Cola executives and his sneakers were a big part of his outfit. Unfortunately, they were scuffed up pretty bad. After 20 minutes of scrubbing with hand sanitizer, he got them clean, but there had to be an easier way. There wasn't.
That night he called his old friend and told him about his idea for a product that would quickly and easily clean sneakers. Consolo packed his bags and flew to LA where the old friends went all in on their idea. They converted Chris' garage into their lab. Once they perfected their product, the ordered a pallet and got to selling. They initially focused on selling to shoe stores, but realized the product had mass appeal. Now, they're in over 30,000 retail outlets including Walmart, Kroger, Meijer, CVS, Costco, Amazon and more.
The product itself is small, circular sponge with a scrubber on one side. It works best when moist. A three pack costs just ten bucks. They also have two other products: GolfErasers and AutoErasers. The GolfEraser is for cleaning golf clubs and the AutoEraser is for touch ups between car washes. The AutoEraser works on scuffs, sap, bugs, grease, brake dust and more. Even with broad distribution, they likely want a Shark's help funding purchase orders.
Company Information
Video

Posts about SneakERASERS on Shark Tank Blog
Sneaker Erasers aka SneakerASERS
SneakERASERS Shark Tank Recap
Chris and Kevin enter seeking $200,000 for 8%. They give their pitch while Chris dirties up a sneaker which he then cleans up with his product. When they're done they tell Kevin one sponge will get as many as 9 uses. They sell for $9.99 and cost $1.98 to make. They sell a 1 count package for $3.99 in Wal Mart. Chris used a home equity line of credit to finance their orders, but they are completely debt free and even have cash in the bank.
In 2019, sales were $202,000. For 2020, they are at $1.1 million year to date (season 12 segments taped in July and August). Ecommerce sales numbers are just 12% of all sales. The Sharks want to know about the competition. There is really nothing like their product out there. They knocked themselves off with Shoe Eraser, which Kevin loves.
Kevin offers $200,000 for 15% and they say that's more than they're willing to give up. A-Rod likes it, he wants to know what they're using the money for: marketing. Barbara doesn't like it when they talk about their other products; she is out. Lori likes the fact that they're inventors and marketers. Lori and Alex team up at $200,000 for 20%. Mark wants to know if they can do custom packaging. He offers $200,000 for 12.5%. They counter Mark with $300,000 for 10% and Mark goes out. Next they ask if Lori and Alex will come down on the equity, they say no. A-Rod says he's going to take the offer off the table and they do the deal.
SneakERASERS Shark Tank Update
The Shark Tank Blog constantly provides updates and follow-ups about entrepreneurs who have appeared on the Shark Tank TV show. As of July, 2021, there is no evidence the deal with Lori and Alex closed. The episode aired May 7, 2021, so they could still be in due diligence.
As it turns out, the deal with the Sharks didn't close. The products can be found at Krogers, Wal Mart, Costco, CVS and many other retail locations. The company introduced a new product for cleaning purses called PursERASORS. All their products are available on Amazon. As of August, 2022, lifetime revenue is approaching $5 million. As of February, 2023, 2022 revenue topped $2 million.