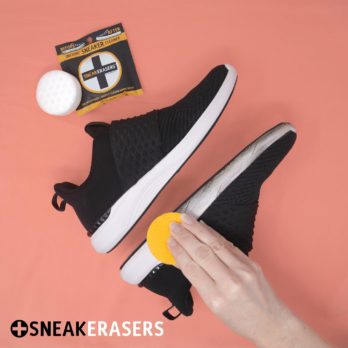 Sneaker Erasers creators Chris Pavlica and Kevin Consolo used to brainstorm about million dollar ideas while roommates at Ohio University. It was almost ten years later that idea came to be. Pavlica was a film maker in LA and Consolo was doing sales for a brewery in North Carolina. One fateful day, Pavlica was set to pitch a film idea to Coca Cola and his sneakers were all scuffed up. He barely got them clean enough not to be embarrassed. That night, he called his old buddy and said "I have the idea!"
The guys settled on a premoistened sponge as the delivery mechanism. They got to work in Chris' garage and had a product ready in record  time. Once it was good to go, the guys got to selling. That was in 2016. Fast forward to 2020 and they had to shift to mostly digital sales to to the Covid-19 pandemic. Their fortunes changed when they got a call from a Shark Tank producer. The guys practiced virtually from each coast!
Now, they have two warehouses – one in LA and one in Buffalo with a third one planned for Columbus, OH. They're also in Costco, Walmart, CVS and many more big retail chains. In fact, they are in over 30,000 retail locations. Did I mention the other two products they developed? Add GolfERASERS and AutoERASERS – for golf clubs and cars – to the line!  These guys are everywhere.
My Take on Sneaker Erasers
In season 9, a company called DetraPel pitched in the Tank. It protected sneakers, but didn't clean them. The SneakERASERS remind me more of those Mr. Clean Magic Erasers, but for shoes. When you look at the before and after photos on the company website, you can tell they really work. At $9.99, they're affordable, too.
I don't wear sneakers too much – I'm more of a flip flop guy. My wife and daughter each own several pair of Vans. They like to keep them clean with Windex and paper towels. That's not a portable solution though. I think I found a new Shark Tank Product I'll be buying.
Will Sharks Clean Up and Invest?
I have to believe these guys did a deal. And I'll bet they do it with Lori. The last time a cleaning product (Scrub Daddy) came in the Tank with such broad distribution pre-show, Lori did the deal.
It's right in her wheelhouse too: broad appeal, easily demonstrated and reasonably priced. They may get other bids (expet a royalty deal from Kevin), but I think Lori will win the day.