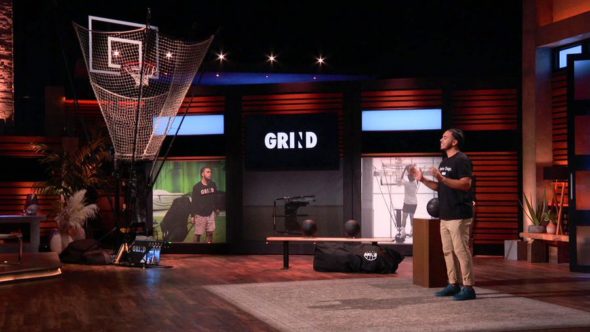 Thomas Fields seeks an investor for Grind, his portable basketball shooting machine, in Shark Tank episode 1223. Fields was an elite high school basketball player who was a Division 1 prospect as a freshman. Unfortunately, two torn ACLs in his sophomore and junior years and a torn meniscus in his senior year effectively ended his D-1 dreams. It was during his high school years he envisioned what Grind would become and what made him determined to make it work. Fields is a grinder – he was at his high school gym every morning at 5 am to make his game better.
When he realized playing basketball was out of the question, he dedicated himself to hard work and getting a business together. He originally thought about getting into real estate, but he wanted a business that would have impact on the world. He read countless books and educated himself with the same passion he used to put into his basketball practices.
The product is basically a large net funnel that sits around and under a basketball net. When you shoot the ball, the machine "catches" it and returns it to a spot on the court (top of the key, free throw line extended, both corners). This lets the player shoot continuously with one ball while getting more reps in. It's portable and fits in a large, wheeled duffle bag. Fields is also working on an accompanying app that will calculate missed shots. With a price tag of $1595, it's a lot less than comparable basketball shooting machines. While Fields seems capable of grinding it out on his own, he'd love to have a Shark's help.
Company Information
Video

Posts about Grind on Shark Tank Blog
Grind Basketball – Shooting Machine
Grind Shark Tank Recap
Thomas enters the Shark Tank seeking $250,000 for 5% of his business. He tells his story and demos the product and Mark comes onstage to try it out and it takes him 4 tries to sink a shot. Thomas retails the machine for $1495.00 and they cost $977  to make. He wanted to make an accessibly priced machine. He has $215,000 in pre-order sales in 5 months. The machines require power but version 2 will be battery powered.
Kevin says it's not the product for him; he's out. Lori says she's not a sporty girl; she's out. Alex doesn't like the margins; he's out. Mark says the challenge is the margins and the valuation. Thomas thinks it can be a $10 million company. Barbara thinks the product is ugly but she wants to make an offer, but with one of the "sports guys." She asks Mark to do $250,000 for 20%; Mark says he'll do it for 30%. Thomas counters with $300,000 for 25%. Mark counters with $250,000 for 25% and Thomas agonizingly agrees.
Grind Shark Tank Update
The Shark Tank Blog constantly provides updates and follow-ups about entrepreneurs who have appeared on the Shark Tank TV show. The deal with Mark and Barbara never closed. Even with some serious supply chain issues, Thomas had over $1 million in pre-orders in  2021. As of December, 2021, Thomas was named to to Forbes 30 Under 30 list for 2022. He says he's delivered 80% of his pre-orders.
In December, 2021, and June, 2022, the company raised a total of $1.6 million in additional seed funding. Also in June, 2022, he's still a few months out on orders. A note on the website at this time says: "Orders Today Ship August 2022." By August, 2022, he's more caught up with inventory. As of February, 2023, customers may order "on demand," there are no back order issues anymore. In October, 2023, reliable revenue figures are unavailable.