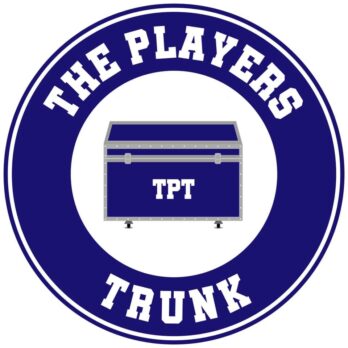 Charles Matthews, Hunter Pomerantz, Austin Pomerantz and Jason Lansing, along with former Michigan basketball player and current member of the NBA's Oklahoma City Thunder, created the Players Trunk to help collegiate athletes. College sports stars collect a lot of gear over their careers. There's a market for that gear as memorabilia, but there was really no way to sell it to the masses in an orderly way. Most athletes would sporadically sell on Instagram, but the Players Trunk guys thought they had a better way.
They created an online platform where players can fill their virtual "trunks" with old sneakers, game jerseys, jackets and more. Fans can go into the trunks and bid on items. The company makes its money by taking a percentage of the sale – anywhere from 20% to 40% – and they handle the transaction. The athlete receives the balance.
The guys started the business during the Covid-19 pandemic while everyone was taking classes virtually. Initially, they used the Pomerantz family's garage as their warehouse. The business was an immediate success. Student athletes can't, by NCAA rules, sell their gear until their college careers are over, but new NCAA rules gave a big boost to both the business and student athlete. In June, 2021, the NCAA said student athletes could make money off their name, image and likeness. This allowed the company to produce trading cards with a player's picture and stats and to sell autographed photos of players. This boosted business even more. Now, they're in the Shark Tank to take things to the next level.
My Take on The Players Trunk
I always thought it was unfair the college athletes couldn't profit from their playing days. Yeah, they get a free education, but that hardly compares to the tens or even hundreds of millions of dollars universities rake in from lucrative sports programs. Last year, the University of Michigan football team made just north of $122 million! That's serious money and the players see none of it, except maybe in the form of new gear.
Now, at least players can make money from their likenesses. Enterprising players can realistically earn tens or even hundreds of thousands of dollars during their careers. Of course that's just the top elite players, but even players who don't go on to professional careers can capitalize by selling memorabilia to rabid fans. This is a smart idea and I think these guys are going to make a ton of money. I'm in.
Will Sharks Play Ball?
I'm pretty sure the lady Sharks won't go for this. Barbara rarely bids on tech companies. Also, this business isn't in Lori's wheelhouse. There's no way Mr. Wonderful can structure a royalty deal with this (or is there?), so he'll probably drop out. That leaves Mark Cuban and Kevin Hart.
Either one of these Sharks could make an offer. Mark will "get it" and he has a lot of connections in the sports world that could accelerate the company's growth. Kevin Hart might make an offer too or perhaps he'll team up with Mark. Either way, I think Mark closes this deal.