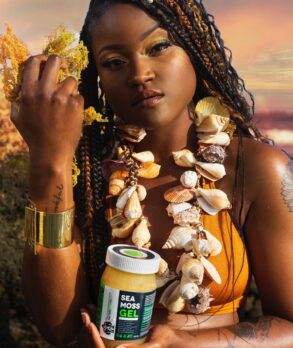 Transformation Factory founder Alexiou Gibson was over 500 pounds at age 19 and his doctor told him he'd be dead by age 30. Even his doctor said it was unlikely he could make significant changes, but he did. The former NASA intern and recipient of the Buick Engineering Scholarship became completely vegan and seaweed was a critical part of his new diet.
Seaweed has lots of nutrients and is vegan, gluten free, soy free and non GMO. It contains 92 of the 102 minerals your body needs. Transformation Factory "wild harvests" its seaweed from the ocean waters around Jamaica in a sustainable way that won't harm the environment. Gibson would eat the seaweed after it was dried, but there was one problem: it tasted like low tide.
So he began synthesizing the seaweed into gels. He'd blend the dried seaweed with water and add in fruits for a more pleasant flavor. He sells "raw" gel for people who want to make their own concoctions, dried seaweed and seaweed gel capsules. Apparently the gels are filling as well as being packed with nutrients and two tablespoons only have 40 calories. The gels are perishable, so they'll come packed in ice at $35.99 for an 8 ounce jar. While that's a tad pricey, good health and nutrition is priceless. Gibson hopes one of the Sharks feels the same way.
My Take on Transformation Factory
I love seaweed. Whenever we go to a Japanese restaurant, I order a seaweed salad. I also buy dried seaweed wafers at the supermarket. To be sure, it's an acquired taste, but I like the saltiness and the flavor. I'd probably like this stuff too.
I am on a KETO diet and this is KETO friendly. The fruit flavors might satisfy my cravings for something sweet without throwing me out of ketosis. All those vitamins and minerals won't hurt either. I'm going to try this stuff. I'll let you know how I like it.
Do Sharks Like Seaweed?
I think Mr. Gibson is going to leave the Tank with a deal. The question is, with which Shark. His story will surely inspire the Sharks and if he's got sales and the Sharks like the taste, we'll see multiple offers. Lori and Mark are big investors in plant based businesses. In fact, Mark already invested in a seaweed food business, Umaro, earlier in season thirteen.
I think Kevin Hart will rule the day however, possibly partnering with one of the other Sharks.