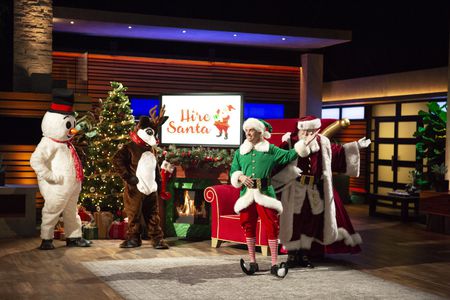 Mitch Allen brings some Christmas cheer into the Tank when he pitches Hire Santa in episode 1012, the 2018 Shark Tank Holiday Special. Allen, a professional Santa for Hire, started the business about six years ago. Hire Santa is a database of professional Santas consumers can use when they want a Santa for an event.
Allen vets his Santas. Each Santa is background checked and insured. There is no cost for Santas to enroll as part of the Hire Santa crew, clients pay a set-up fee to find the right Santa. Customers include Malls, Christmas Parades, Company or Home Parties, or advertising professionals. All Hire Santa Santas have real beards and are professionals.
Playing Santa is a lucrative business. Santas at Malls make $30-$75 an hour while private events command $150-$300 an hour. One Santa charges $500 an hour for appearances on Christmas Day. Professional Santas spend $1000 for their costumes on average and many go to Santa School. A good professional Santa averages around $7000 during the Holiday season with some earning more than $15,000.
To use Hire Santa, you fill out a form on their website. Then you are matched with a Santa who can choose to accept or decline the gig. The client pays Hire Santa and Santa directly. The company has placed Santas all over the world! In addition to providing Santa for an event, you can buy everything to dress up as Santa yourself on the company website. There are Santa suits, boots, beards and accessories. There are even Santa helpers, Mrs. Santa, reindeer, snowman and bunny suits. Revenues for Allen's business are around $100,000 per year. He hopes the Sharks can help him rake in more holiday cash.
Hire Santa Company Information
Video

Posts about Hire Santa on Shark Tank Blog
Hire a Santa – Santa Claus "Employment Agency"
Hire Santa Shark Tank Recap
Mitch enters seeking $200,000 for 10% of his business. He brings about twenty of his Santas with him and the mood is festive – until it comes time to pitch. He tells the Sharks he'll make about $550,000 this year on $1.2 million in sales. A big part of his sales were from a deal he made with a "major outdoor retailer."
While the Sharks are in the Christmas spirit, they aren't too interested in the business. Lori doesn't like the seasonality of it and she goes out. Mark isn't interested in what he sees as a staffing business, so he's out. Barbara says it only generates money for a limited period, so she goes out too.
Kevin decides to offer $200,000 for 50%, citing his "something wonderful platform" database. Mitch tries to counter, but Kevin stands firm. Daymond tries to interject, but Barbara comes back in and offers $200,000 for 50% until she gets her money back, then she drops down to 10%. Mitch accepts and it looks like Santa will have a Merry Christmas!
Hire Santa Shark Tank Update
The Shark Tank Blog constantly provides updates and follow-ups about entrepreneurs who have appeared on the Shark Tank TV show. Since airing,according to the company website: " HireSanta has signed several large clients as a result of appearing on the show.  These clients want to associate their brands with Christmas by using one of Hire Santa's professional Santa Claus entertainers."
The company is also working with other past Shark Tank entrepreneurs to "help Bring the Season to life in new and interesting ways." Santa's back in the Tank for season 11's Holiday Special where we'll get an update on the deal. In the update, Mitch, Barbara and a herd of Santas go to Bloomingdale's in New York. The company is going to provide Santas to the flagship New York store. Barbara and Mitch meet with a store executive to "finalize the deal," then they oversee Santa auditions. Mitch announces he did $1.4 million in sales in 2018. Mitch hired marketing people with Barbara's investment and he went out and closed deals with Great Wolf Lodge and others. He paid Barbara back, too.
2020 saw demand for Santa exceed supply as pandemic related lockdowns killed retail Santa displays in most places. Hire Santa offered a Zoom visit with Santa for $49, far less than the typical hourly rates Santa commands. They offer pre-recorded video messages too. Their website suggests they plan on keeping that service, so they have another revenue stream!
In 2022, as the country started looking at the Covid-19 pandemic in the rear view mirror, virtual Santa services fell 85% from 2020 to 2021 and another 50% from 2021 to 2022. There was also a "Santa shortage" in 2022 at Hire Santa as more companies and brands sought out Santa to appear at their functions. Demand exceeded supply and Hire Sant had to up its recruiting. Part of the reason for the Santa scarcity is some people left their Santa roles due to concerns over Covid. Despite the difficulties, Hire Santa rebounded to pre-pandemic revenue levels.
As of 2023, they are still in business and the Santas all over the USA are eager to get back to work in Christmas 2023.