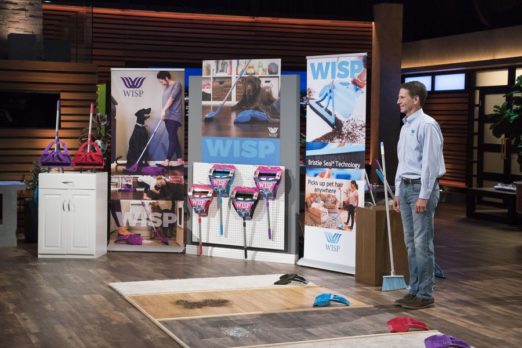 Eben Dobson hopes to clean up with the Wisp, his revolutionary broom/dustpan combo, in Shark Tank episode 1006. The dustpan is designed to sit flat on the floor and is held in place by your foot to keep it from moving. The broom has electrostatic bristles that trap dust and pet hair while still sweeping up the big stuff. There's even a built-in cleaning comb in the dustpan to get the hair and dust off the broom.
The Wisp also has a telescoping handle which extends over four feet so you can get to out of the way places. Wisp's design allows for maneuverability in tight spaces, too. The 90 degree bristles on the broom assure a "clean sweep" every time.
Dobson is no stranger to inventing. He's an avid golfer and his first invention, approved by the USGA, was a special bristle brush for cleaning debris off the golf green. He created the Wisp in 2012 and used the same type of bristles from his golf green brush. It's a true evolutionary step for the broom and dustpan, so much so it's an Amazon best seller! Dobson hopes to sweep into the Shark Tank and get a Shark to invest.
Will a Shark get a handle on this hugely profitable product?
Wisp Company Information
Video

Posts about Wisp on Shark Tank Blog
Wisp Shark Tank Recap
Eben enters the Shark Tank seeking $500,000 for 10% equity. He demonstrates his broom and Barbara and Lori come onstage to try it out. Then he gives out samples. Things get shaky from that point on. He has $3.3 million in lifetime sales, but he's sunk $2.1 million of his own money into the business and he lost $600,000 last year (2017). Lifetime profits are just $50,000 and he has $300,000 worth of inventory. It's looking grim for Eben.
Sara says she can't invest due to the financial situation; she's out. So are Mark, Barbara and Lori. Kevin says Eben needs a partner that will help him make better decisions. He offers $500,000 for 50%. Lori says if Kevin puts up the money, she'll help him sell it on QVC. Kevin says he doesn't need her if she isn't going to put up any money. Lori doesn't want to invest due to the finances, but she'll help Kevin sell. When Eben keeps talking to Lori, Kevin gets perturbed and withdraws his offer and kicks Eben out of the Tank saying "It was in your hand, and you're talking to her? You're out of here. See ya, buddy. Goodbye, take the broom."
Wisp Shark Tank Update
The Shark Tank Blog constantly provides updates and follow-ups about entrepreneurs who have appeared on the Shark Tank TV show. Even though he didn't get a deal, Lori helped him out. She called shortly after the episode aired and said, even though she won't invest, she'll help him sell product on QVC. The video of the Segment is below.
As of November, 2021, Eben added an outdoor broom, a hand broom, a wet mop  and a window cleaning kit to his line. His finances have turned around too. The products are available at Wal Mart, the company website and Amazon. As of July, 2023, he has $7 million in annual revenue.