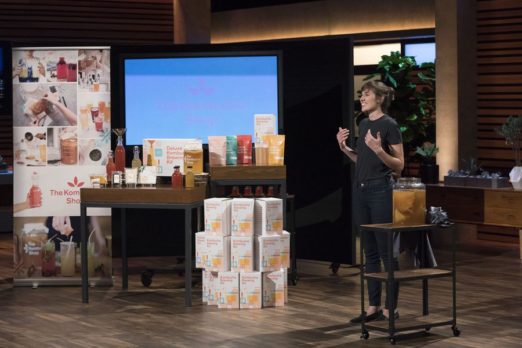 Kate Field pitches The Kombucha Shop, her online Kombucha brewing kit business, in Shark Tank episode 1006. Kombucha is an over 2,000 year old, Chinese fermented drink made from bacteria and yeast mixed with black or green tea and sugar. It's actually made of live bacteria from a bacteria and yeast fermentation process. A cup of Kombucha is loaded with probiotics, B vitamins, enzymes, and organic acids that improve digestion and immune function.
Kombucha, since it's made by fermentation, has small amounts of alcohol.  It has a vinegar-like taste, but it's all the rage amongst health foodies these days. Drinking more than four ounces at a time can cause heartburn and unpasteurized versions – like home-brewed varieties, can cause bacterial contamination. Drinking "bad" kombucha can give you an upset stomach. Pregnant women shouldn't drink it.
Kombucha Shop founder Kate Field discovered kombucha back in 2013 while educating low-income families in Washington, DC. about nutrition. She started brewing it at home and found there weren't any good, commercially available home brewing kits on the market, so she invented her own. Now, The Kombucha Shop is one of the biggest home kombucha brewing kits on the market.
She sells individual packets of tea and starter culture, or you can get a complete kit with everything you need to start "brewing like a pro." A finished batch of kombucha has stringy, mushroom-like blobs floating in it. It ferments best at 74-80 degrees. A starter kit will set you back fifty bucks; the "deluxe" kit is eighty bucks. Kate hopes the Sharks see the benefits of kombucha and invest in her business. Do the Sharks like this tea?
Kombucha Shop Company Information
Video

Posts about Kombucha Shop on Shark Tank Blog
Kombucha Shop Shark Tank Recap
Kate enters the Shark Tank seeking $350,000 for 10% of her business. She gives her pitch and shows the Sharks how to make her product. Commercially available kombucha typically costs anywhere from $2.50-$5.00. Kate's home brew is just 25 cents a serving. Lifetime sales are $3.2 million and she expects to end the year (2018) at $1.7 million. She's a one woman show and has ZERO customer acquisition costs (the Sharks like that). She's looking for a strategic partner to help her get into retail.
The Sharks aren't crazy about the taste of their samples, but they love the business. Kevin offers $350,000 for 20% of the business. Barbara offers $200,000 in cash and a $150,000 line of credit for 10%. Sara wants to split that deal with Barbara and Barbara agrees. Kate takes the deal.
Kombucha Shop Shark Tank Update
The Shark Tank Blog constantly provides updates and follow-ups about entrepreneurs who have appeared on the Shark Tank TV show. The deal with Barbara and Sara never closed. After the show, Kate processed over 15,000 orders and got into Mid West regions of Whole Foods. Oftentimes, when the Shark Tank effect blows up sales like this, the entrepreneurs will back out of the deal because they no longer need the money.
In January, 2021, the company was acquired in a "multi-million dollar acquisition" by Habib Bakshi. He is the CEO of a digital marketing agency focused on elevating ecommerce revenue for the fashion and luxury segment. His business manages over $1.8B in digitally driven revenue. Revenue for Kombucha Shop is $2 million annually and growing.