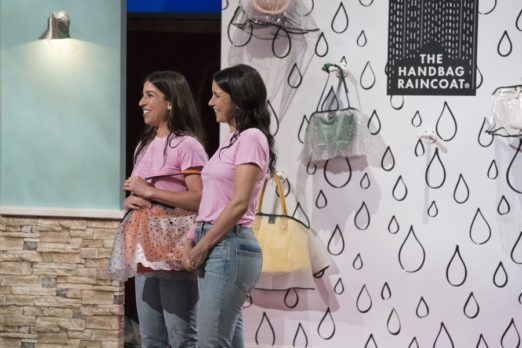 Morgan and Arley Sarner seek a partner for the Handbag Raincoat, their protection solution for fancy handbags, in Shark tank episode 1006. The two frequent New York City visitors, sisters, and handbag aficionados HATED when it rained on their fancy handbags. With leather handbags that cost thousands of dollars, they'd often wrap them in their raincoats, hide them under their umbrellas and get themselves soaked in the process.
Unfortunately, handbags still got damaged. Their solution was to have "rainy day" handbags – handbags that were already rain damaged – for inclement weather. Anyone who lives in the northeast knows weather is unpredictable, so even good planning wouldn't protect their precious handbags. The gals also noticed many other women had the same problem. The solution: The Handbag Raincoat.
The sisters made their first prototype with an old shower curtain while still in college. They wanted the Handbag Raincoat to fit any handbag; a universal solution. After graduating, Morgan went to work in production and merchandising at Rebecca Minkoff for five years. She learned a lot and applied that knowledge to their new business.
The Handbag Raincoat has a velcro, waterproof slot that lets the handle slide through. As for the raincoat itself, it simply drapes over the handbag like a specialty umbrella. At only $20 each, it's stylish and inexpensive, especially when you compare it to a $3000 Louis Vitton bag! The sisters got a lot of buzz at Paris Fashion Week in the fall of 2017 which resulted in appearances on the Today Show, Ellen, Oprah and many mentions in fashion publications. They struck a chord with a stylish solution to a regular old plastic bag. They hope a Shark wants to join them in their quest to protect handbags everywhere.
The Handbag Raincoat Company Information
Video

Posts about The Handbag Raincoat on Shark Tank Blog
Hand Bag Rain Coat – Protecting the Purse
The Handbag Raincoat Shark Tank Recap
Morgan and Arley enter the Shark Tank seeking $300,000 for 25% of their business. They give their pitch in a "rain storm" onstage, telling the Sharks about their business. When finished, the very wet girls hand out samples. Sales for the year (2018) so far are $125,000. Lifetime sales are $600,000. They cost $1.79 to make and wholesale for $5 for the small, $7 for the medium and $9 for the large. Retail prices are $11, $15, and $20. They are in about 100 Bed Bath and Beyond Stores and they're testing in Nordstrom's and The Container Store. They claim they haven't spent money on marketing because they've spent money on legal fees protecting their patents. The Sharks universally think it would be too hard getting their investment back and they all go out.
The Handbag Raincoat Shark Tank Update
The Shark Tank Blog constantly provides updates and follow-ups about entrepreneurs who have appeared on the Shark Tank TV show. With a little sleuthing, I found the women's mother actually holds the patents to this product. I could not find any evidence of a patent lawsuit however.  In December, 2019, the women closed the business. Arley is now the senior manager of Team Boomer at the Boomer Esiason Foundation. Morgan is a Design Assistant at Rebecca Minkoff. There are many products similar to the HandBag Raincoat on Amazon.