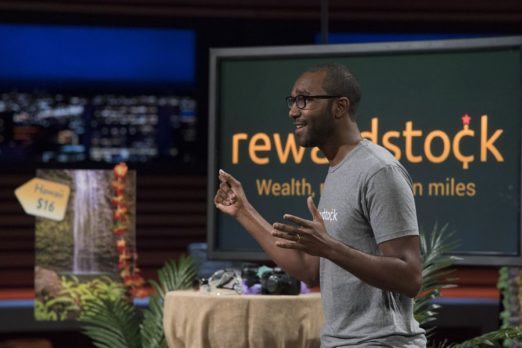 John Hayes seeks a partner for RewardStock, a sort of "stock exchange" of airline, hotel, and credit card reward points, in Shark Tank episode 1006. Hayes started the company in 2014. Basically, they aggregate data from all available rewards (points or miles) programs and offer a cash value comparison of each reward's value. These values fluctuate, much like the stock market. RewardStock analyzes whether it's best for a traveler to pay cash or to use points for a given travel option.
RewardStock works two ways. For someone who hasn't signed up for a lot of credit cards or mileage programs, it asks you what your travel habits are and recommends specific cards and programs. People who are already enrolled in programs enter their info and their algorithm analyses and tracks their current programs.
Credit card companies beefed up their rewards programs in recent years to draw in more customers. Chase Bank's Sapphire Card was a big hit last year because it offered 100,000 rewards points just for signing up. Credit card companies buy airline miles and similar benefits for pennies on the dollar so they can offer rewards for their customers.
For people who mostly use the same airline, the airline credit card and mileage perks are often the best bet, but most people don't. RewardStock helps you decide which miles or points to use for any given trip based on its real cash value. They make money by charging ten bucks to book your free travel through them. It's the only app of its kind right now and Mr. Hayes hopes a Shark wants to enter the "stock market of travel rewards" with him.
RewardStock Company Information
Video

Posts about RewardStock on Shark Tank Blog
RewardStock Shark Tank Recap
John enters the Shark Tank seeking $200,000 for 5% of his business. He tells how he came up with the idea and gives his pitch, explaining how it all works. To close out the pitch, two Hawaiian women come in and hand drinks and leis to the Sharks while a Hawaiin man juggles a fire stick. He demonstrates this so he can tell the Sharks he got a round trip flight to Hawaii for $16.
His system analyzes all the potential deals and how to most effectively plan a trip. They make money by charging a $29 per year membership fee and referral fees made when a customer buys something. In two years, he's made $50,000 on 10,000 users. He's invested $20,000 of his own cash and they raised $700,000 at a $3.5 million valuation with a convertible note.
Sara isn't passionate about this business; she's out. Lori thinks it's super smart, but too early; she's out. Barbara is concerned about the low revenue; she's out. Kevin offers $200,000 for 10%. He asks Mark his feelings, and Mark offers $320,000 for 10% and 1% advisory shares. Mark says they'll work out any issues with his convertible note. John takes the deal.
RewardStock Shark Tank Update
The Shark Tank Blog constantly provides updates and follow-ups about entrepreneurs who have appeared on the Shark Tank TV show. The deal with Mark closed. In November, 2020, the company was acquired by Experian for an undisclosed amount. John says Mark was a big part of making the deal happen.