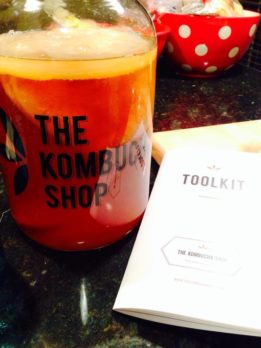 Kombucha is the latest food fad for the health food crowd. It's a fermented tea, made from bacteria and yeast mixed with black or green tea and sugar. People first made it in China over 2000 years ago. What makes it so trendy these days is it helps with digestion and the immune system. The natural food crowd is going nuts over the stuff. Unfortunately, there aren't a lot of ready-to-drink Kombucha beverages out there.
That's where entrepreneur Kate Field comes in. She fell in love with the drink and noticed the same thing. Many people brew the stuff at home – like beer. When Field went looking for a quality, easy to use home Kombucha brewing kit, she couldn't find one – so she created her own. It's called The Kombucha Shop and she pitches her business in Shark Tank episode 1006.
The brew does contain trace amounts of alcohol, from the fermented sugar, so it's not for kids. It may not be for the faint of heart either. A successfully brewed batch of the stuff has mushroom-like blobs floating in the liquid and a vinegar-like taste. If brewed incorrectly, the bacteria can make you sick. She doesn't recommend that kids, pregnant women  or the elderly drink it – just in case.
Like a home brew beer kit, kits from the Kombucha Shop come complete with everything you need to make your own brew. Everything is made and packaged in the USA, too. For about fifty bucks ($80 for the deluxe version), you get a kit with everything that will have you brewing Kombucha like a pro. She also provides a lot of education and support on her website. She's hoping a Shark will brew up a deal and partner with her.
My Take on Kombucha
I'm not exactly excited about this drink. Anything that looks like a "refrigerator science project" when it's ready to drink isn't my cup of tea. I'm no fan of drinking vinegar either. I do drink a lot of tea, which has its own benefits. Tea with blobs in it is where I probably draw the line.
My brother-in-law, the chef, drinks this stuff – "about a cup a day" he tells me. He says I'd like it. I don't believe him. But it is a new trend and Ms. Field is the leader of the Kombucha movement. It's a small niche, but she dominates it.
Do Sharks Like this Tea?
My first instinct about this is there has to be a liability issue. Someone, somewhere will get sick from this stuff, even if they follow the directions to the letter. The Sharks won't like that. I don't think they'll like the Kombucha either, unless one of them already drinks it. Even my brother-in-law says it's "an acquired taste."
While huge sales and market dominance could sway the Sharks, I don't think they make a deal with Kate. The product isn't even proprietary. Anyone could put a kit together and sell it, Kate just did it first. Despite the many health benefits, I don't think the Sharks think this business is their cup of tea.