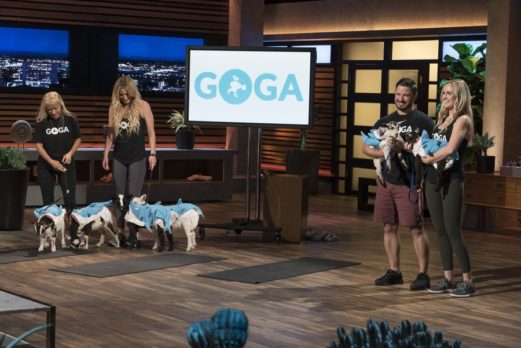 Trey Kitchen and Rachael Phillips seek an investment in Goga, their yoga classes with baby goats, in Shark tank episode 1016. Goga is basically yoga performed with the assistance of baby Nigerian dwarf goats. Not only do they provide some extra weight resistance on some of the moves, spending 45 minutes with a cuddly baby goat relieves stress, which is part of yoga too.
The boyfriend and girlfriend started Goga in the aftermath of Hurricane Harvey in 2017. Rachael, an internet marketer by trade, wanted to do something fun for her community while giving back to those who suffered Harvey's devastation. She approached Trey, whose mother Roxie Banker, breeds goats. The three people of complementary backgrounds created Goga and it's the hit of Austin.
Phillips and Kitchen did not invent goat yoga. It first became a thing in Oregon back in 2016 and gradually spread throughout the country. Austin, known for "keeping things weird," was the perfect place for a new goat yoga business to start. Each Goga class has a charity theme with portions of the fee going to a specific local charity. The company continues to regularly donate a portion of its profits to disaster relief efforts in Texas.
They likely want a Shark to help expand the herd and grow into multiple, branded locations. Do Sharks like goats?
Goga Company Information
Video

Posts about Goga on Shark Tank Blog
Goga Shark Tank Recap
Trey and Rachael enter seeking $50,000 for 15% of their business. The goats are cute and their $250,000 in revenue impresses the Sharks. What the Sharks don't like is the yoga is outsourced, they just supply the goats. They are on the verge of opening their second studio where they will offer goat and traditional yoga.
Robert claims his wife had difficulties opening her own studio and he goes out. Mark and Lori don't think it's investable and they go out. Alli thinks they aren't passionate enough and she goes out. After a brief discussion on eating goats, Kevin goes out too. NO DEAL.
Goga Shark Tank Update
The Shark Tank Blog constantly provides updates and follow-ups about entrepreneurs who have appeared on the Shark Tank TV show. The couple has yet to open a second studio, but now offers traditional yoga classes with goat yoga on Saturdays. Rachael returned to instructing regular yoga classes as well. As of June, 2022, they still have one studio and do goat yoga twice a month on Saturdays.