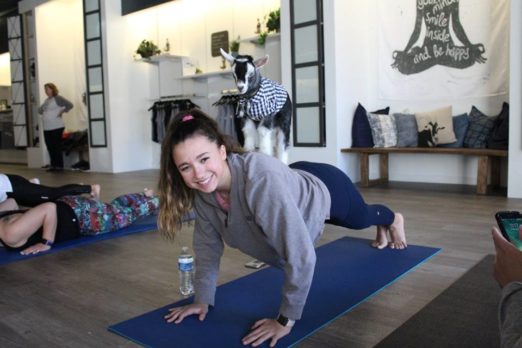 Yes, goat yoga is actually real. Trey Kitchen and Rachael Phillips started their goat yoga business, called Goga, in 2017 after Hurricane Harvey hit. They wanted to raise some money to help folks impacted by the hurricane. Luckily, Trey's mother raises baby Nigerian dwarf goats, so the goat portion of the business didn't require a lot of investment.
Goat yoga is a relatively new fad which began in 2016 in Oregon City. There are numerous companies offering the service across the country. Most are regional operations, but the "inventor" of goat yoga, Lainey Morse, is branching out across the nation. Kitchen and Phillips can't claim they invented the practice of marrying goats and yoga, but their Austin location is doing big business.
Goga is basically a standard yoga class, but with goats. Imagine doing a plank with a little goat on your back. The extra weight resistance helps with fitness while the baby goats add cuteness. People come to cuddle the goats as much as they come for the yoga. A class costs $30 and there are several package options as well. A portion of the company profits still go to victims of natural disasters. The Goga folks likely want to cash in on the craze and expand nationwide.
My Take on Goat Yoga
My wife does yoga on the beach most Saturday mornings. Without goats. I joined her a few times, but I still incorporate some yoga in my workouts. While I am not against goat yoga per se, it's not something I'd try. I bet the beach yoga crowd would love it though.
The Goga team says having goats brings in people who might not otherwise try yoga. The goats are cute and cuddly and studies show cuddling animals enhances your well-being. The thing is, anybody can get into this business. I personally know two yoga instructors with their own studios. They could easily add goats into the mix. While I think it's a cute idea, it doesn't seem proprietary enough for investment. I'll stick to goat cheese for now.
Do Sharks Like Goats
Surprisingly, there was one other goat related business in the Shark Tank. Back in season five, Rent a Goat unsuccessfully pitched the Sharks on using goats to clear land. That company faced similar objections that Goga is likely to face: it's not proprietary.
Their only hope is Mark Cuban. Since Goga is based out of Austin, they have local appeal. Mark also has a thing for event-based companies like Rugged Maniac and Haunted Hayrides. If the value proposition is there and Mark likes Trey and Rachael, he could invest. What makes me think it's Mark is the week before the episode airs, the Goga website got a complete overhaul. It doesn't mean they got a deal, but it kind of looks like a site Mark would approve of.