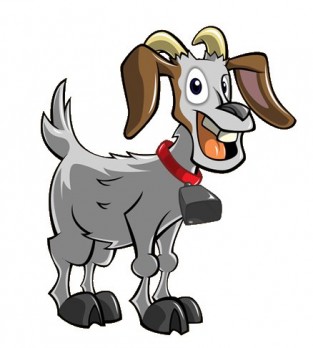 22-year-old Matthew Richmond and his partner Mike Canaday pitch their eco-friendly "landscaping service" called Rent a Goat in Shark Tank episode 506. Richmond, a 22 year-old entrepreneur partnered up with Mullen, a livestock owner, to use goats to clear brush for their customers. Goats eat just about any kind of vegetation, including poison ivy, and invasive species like kudzu, English ivy, and wild berries. Richmond claims his goats' services are comparably priced to those of a landscaping company.
Rent a Goat brings a herd of goats to a customer's property, erects a portable electric fence around the perimeter, and lets them do their thing. An average goat eats about 8 pounds of vegetation in a day, so a herd of 8-10 goats can clear a big swath of land in a short time. Richmond runs the business end of Rent a Goat from his laptop while Mullen handles the "workers." The business is unique, green, and has a beneficial by-product: fertilizer. As their motto states, they offer "cost-effective, eco-friendly, and super cute weed removal."
Rent a Goat  Shark Tank Recap
Matthew Richmond and Mike Canaday come in the Shark Tank with their goats and ask for $150K for 25% of the business. While Richmond explains how the goats clear land, the goats chow down on the brush brought in for the demo. Demand is high, and they need the Sharks' help spreading the word about the benefits of Rent a Goat.
Richmond started the business after watching goats clear fields in Moldova. When he got back, he started the website to connect goat owners like Mike with people who need their land cleared.  Canaday is the owner of the goats and is a subcontractor. He uses the Rent a Goat system to book his goats for land clearing and earns over $600K per year!
Mike says 450 goats can eat an acre a day. Most of Mike's business comes from homeowner associations and municipalities. Human landscapers cost about $2,700 per acre and the goats only cost $400-$1200 per acre.  Matt projects $200K in sales for the next year, even though they've made no money as Rent a Goat. Richmond wants to build a franchise.
Who's In?
Mark thinks there will be much more competition and prices will go down, so he's out. Barbara thinks the business is too dependent on the "Mikes of the world," so she's out too. Lori likes the goats and is impressed with how much they've eaten during the pitch, but she thinks it's too early, so she's out.
Kevin says he could start up Mr. Wonderful's goat rental himself. Mike schools him and says "I'd be buying out your equipment in three months and giving you less than half of what you paid for it. I'd be the goat shark."  Mr. Robert thinks the business is too all over the place, and he's out. Kevin says he's not going to ride into the sunset with the goat herd and he goes out too.
Rent a Goat  Shark Tank Update
Although Matthew Richmond and Mike Canaday were excited to spread their goat rental service to other parts of the country, it seems as if the expansion has stalled. The envisioned goat rental network has not come to be. The website lists the only service location as San Francisco, California. Rent a Goat may be a green idea, but its one that didn't have enough staying power to spread across the country into other markets.
Goat rental businesses have cropped up in other areas, but it seems as if the owners haven't seen enough value in banding together in an actual network to jump on board with Rent a Goat's franchises. Customers will have to complete their own due diligence if they wish to rent a herd of furry weed eaters for themselves.
Fast forward to August, 2023 and Matt and Mike's herd has grown to over 3500 goats. They deploy their goats at big companies, federal lands and all over California to create fire breaks during the dry season. Annual revenue is $2 million.
Posts About Rent a Goat on Shark Tank Blog
Rent a Goat Information
Rent a Goat on the Today Show