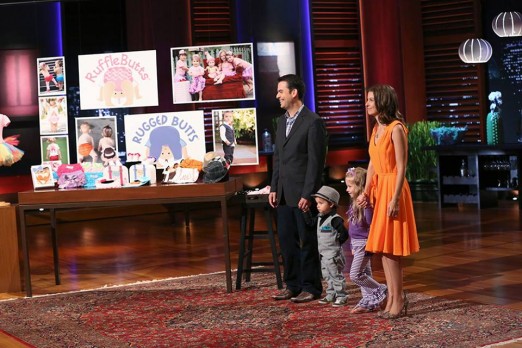 Mark and Amber Schaub bring not one, but TWO companies, Rufflebutts and Ruggedbutts, into the Shark Tank during episode 506 on October 18. The complementary companies sell girls and boys clothing, accessories and footwear respectively.
Amber Schaub started Rufflebutts in 2007 with a vision to recreate the ruffled bloomers she wore as a child. Amber set out to make quality and service her mission and grew the brand. In 2010, her husband, Mark, joined the business as COO in 2010 and they launched the boy's clothing line, Ruggedbutts, in 2011, around the same time Amber gave birth to their son.
Rufflebutts and Ruggedbutts are the first tandem companies to appear on Shark Tank. separating the boys and girls' brands keeps each brand intact while the "butts" unify the two separate companies. Both the Rufflebutts and Ruggedbutts names have their own trademarks and they operate as two separate websites. Rufflebutts and Ruggedbutts have wide distribution; they're currently in Neiman Marcus, Nordstrom, and Hallmark stores nationally, plus hundreds of boutiques worldwide.
Rufflebutts and Ruggedbutts Shark Tank Recap
Mark and Amber Schaub enter the Shark Tank with their two kids asking for $600K  for 7% of their business. To date they have over $3.7 million in annual sales and they project $.5 – 5 million for next year. They're number 8 on the Inc. 500 for retail businesses and they have NO DEBT. Amber owns 51% of the business while her husband has 49%. Quality is important to the Schaubs, as is making "super cute" clothes.
Mr. Wonderful balks at Rufflebutts' 2,000 SKU's. Robert wonders why they need the money, and Mark explains they're in the Shark Tank for strategic partnerships. Amber explains she has the entrepreneurial "bug." Mr. Wonderful can't deal with the amount of products in the line, then gives an analogy about Persephone falling into the bowels of hell – then he goes out because the Schaubs are tempted by the "devil of inventory."
Mark understands their approach but he's got no clue about the best bloomer in the world and he goes out. Robert is impressed by the Schaubs, but he doesn't understand fashion, so he's out too. Lori and Barbara have a little confrontation before the break, and when they come back, Lori says she thinks the Shcaubs' offer is a little "light."
Barbara offers $300K in equity and a $300K credit line for 12% of the business which puts the valuation at this year's sales figures. They hem and haw at the offer, then Lori offers $600K for 10% but she wants her money back in 2 years. Barbara then says "what Lori does well is sell product, what I do well is build power brands." The Sharkettes then quibble a bit, then Barbara asks the Schaubs to respond to the offer as she and Lori pitch the Schaubs. Amber and Mark step into the hall to discuss the offers and Mark says it's the worst offer she's ever given on Shark Tank; he calls it a "Kevin deal" and Mr. Wonderful agrees!
When the Schaubs return, they counter with $600K for 8%. They value the Sharks' experience, but when Barbara offers 10%, they say no. Lori goes to 9%, then asks them to trust their gut and the Schaubs do the deal with Lori.  Amber and Mark say it was a tough position, but they went with Lori because she was willing to compromise.
Rufflebutts and Ruggedbutts Shark Tank Update
Two weeks after air date, Rufflebutts and Ruggedbutts hadn't completed their deal with Lori. It eventually never happened.
The Schaubs give a detailed update on their progress in an update interview with Shark Tank Blog.
In 2021, the company moved it's headquarters to Flower Mound, Texas.
As of August, 2023, they are still in business and have $7 million in annual revenue.
Posts About Rufflebutts and Ruggedbutts on Shark Tank Blog
Rufflebutts Update Interview – Mark and Amber Schaub
Rufflebutts and Ruggedbutts Information