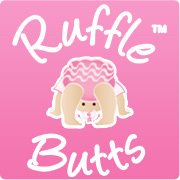 Anyone who has a little girl in their life can appreciate RuffleButts. It's a little girl's clothing and accessories line that husband and wife team, Mark and Amber Schaub, pitch in the Shark Tank in episode 506 on October 18. The Schaubs also own RuggedButts, a boy's clothing line they started in 2010; RuffleButts started in 2006.
Amber is the creator of RuffleButts. The initial idea was to make ruffled bloomers for little girls – like the ones she wore as a child. The dual companies have morphed into a mini-conglomerate with distribution in hundreds of baby boutiques and in retail giants like Neiman Marcus, Nordstrom, and Hallmark stores. They do a brisk online business, too.
Amber counts Mark Cuban as an inspiration. Like Cuban, Amber is "both stubborn as all get out" when it comes to business. On her blog, she recounts meeting him in 2006 at Dallas event. She's followed him ever since. It will be interesting to see if she "targets" Cuban during the pitch.
A Father of 4 Girls on RuffleButts
I've mentioned my daughters before, they're a wonderful bunch of girls. When they were little, they were all dressed like little baby dolls from the time they were born to the age of five (and to some extent beyond that). My girls were the beneficiaries of a grandmother (my mom) who never had a little girl and released years of pent-up "girls shopping deprivation" by buying every cute outfit she saw. There are a LOT of grandmas like that out there and they probably make up a big share of the RuffleButts market.
Plenty of parents like to dress up their little princesses, too. The boys might not have as many cutesy outfits, but there's nothing like a toddler boy in some sharp clothes – at least before he destroys them! My son used to cry when we dressed him up and it usually wasn't long before he'd somehow dismantled his outfit! The funny thing is, he's a clothes horse now!
Quality kids clothing will always find a market as long as people keep having kids, so I think the Schaubs have a winner here. Their business is already mature and doing well. I think they'd like the Sharks' help bringing things up a notch in the mass marketing scheme of things.
Do Sharks Ruffle Easily?
The Schaubs will undoubtedly have a solid pitch. I don't think we'll see any train wreck here. The Schaubs will know their numbers, margins, and valuation. They didn't fall off the turnip truck on the way to the Shark Tank- they're running a multi-million dollar business.
I expect multiple bids. Barbara could make a bid because in many ways, she's like my mother: the grandma who gets the best for her "babies." She'll see the quality of the products and the profit potential, plus she knows who RuffleButts customers are. Lori has a large female following and, even though  she's more of a consumer products person, she could have interest. I can't see Mr. Wonderful or Robert going for this, although Robert could team with another Shark since he'll "get it" because of his daughters.
The wild card is Cuban. Amber desperately wants to do business with her business muse and will probably pitch him hard. I think Cuban will like Amber because she claims to have a lot in common with him from a business standpoint. Mark is famous for investing in the person as much as the product, so a like-minded woman could be a good business fit. I think the Schaubs do a deal with Cuban. I'm "IN" too, and I'll send Amber my mom's phone number!