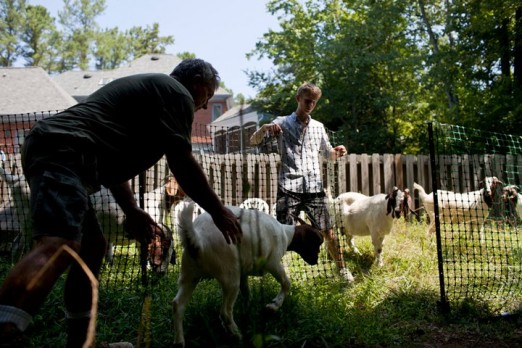 When I first saw the press release that said a goat rental service is a featured business in Shark Tank episode 506 on October 18, I thought, "that's not a B-AA-AAA-D idea!" Rent a Goat is a goat rental service out of North Carolina that rents goats, not for petting zoos or kiddie parties, they put the goats to work.
Entrepreneur Matthew Richmond teamed up with livestock owner Matt Canaday to create a goat rental service that uses goats to clear brush. Instead of hiring a landscaping crew, controlled burning, or using harsh chemicals to eradicate unwanted vegetation, Rent a Goat uses goats. They bring a herd to your business or residential property, set up a portable electric fence or leave a goat wrangler behind to keep them "on task," then they let the goats CHOW DOWN.
Benefits of Goat Rental
Goats eat just about anything and they eat 8 pounds of vegetation a day. A small herd of goats can literally eat their way through the toughest nuisance brush in a short time. Goat rental customers include Google, Yahoo, even the US Navy!
The most obvious benefit to letting goats clear your land is it's about as green as you can get. Goats don't spew exhaust fumes like landscaping and brush clearing machinery and they yield a useful by-product: fertilizer. As a goat rental business owner, goats make good employees: they don't complain or call in sick, and you're charging your customers to feed them! Goats can also go on hillsides and other rugged terrain where men and machinery might have a more difficult time.
My Take on the Goat Rental Business
I like goats. We go see the baby goats every spring at our local organic farm – my daughter loves feeding them, too. I like goat cheese, goat milk, and goat meat, too. Maddy, a character from the excellent novel, Cold Mountain by Charles Frazier, says "I've learned a person can pretty much survive off of a goat. A goat gives you company, and milk, and cheese… and when you need it, good meat." Quite frankly, goats ROCK!
The fact that I like goats may skew my love for the goat rental business, but I think it's a terrific idea. If 8-10 goats could clear my yard for the same money as hiring a landscape company, I'd go with the goats. The only problem I'd have is keeping the neighborhood kids away.
Do Sharks like Goats?
On the surface, goat rental would seem like an extremely local business. Unlike a product, you can't ship a goat FEDEX (they'd probably eat the box anyway). Transporting the herd over a certain distance would absolutely kill the margins, so the market is limited. There are dozens of similar businesses all across the USA.
Mr. Richmond has a solution to that issue: franchising. There is a tab on the Rent a Goat website that encourages people to contact the company for franchise information and there 's another one that asks for folks in the same business to "register" their goat herd with Rent a Goat. Businesses that register with the Rent a Goat network pay a referral fee when their herd is hired through the network. Richmond says it's his "dream is to have a goat rental service provider within 50 miles of anyone in the US."
Franchising businesses haven't had much success in the Shark Tank. Rent a Grandma didn't have enough franchisees and the Sharks thought the concept wasn't unique enough. Sub Zero Ice Cream was a mature business that the Sharks couldn't offer additional value to. Goat rental might just fall in the middle of those two extremes.
The Living Christmas Company is a good example of a local type business expanding with a little Shark assistance. Rent a Goat falls into that category. If they can demonstrate success, the Sharks may bite. I don't think Lori or Barbara are bidders here. Mr. Wonderful will undoubtedly have some snarky comments and probably won't consider it either. That leaves Robert and Mark. If Mark can see profit and he believes in Matthew Richmond, he's be the most obvious investor. Robert will likely says he likes the business, but can't add value.
It comes down to getting existing goat rental businesses to buy into the Rent a Goat business model. There are many similar services and livestock farmers tend to be an independent bunch. That said, savvy goat herd owners may jump at the opportunity to gain extra customers without a lot of extra work. The Sharks may have to chew the cud on this pitch before going in or out.