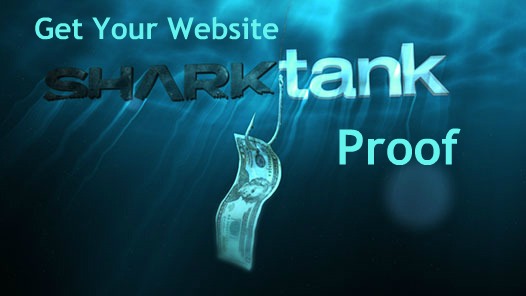 Is your business website Shark Tank proof? Most business website owners will never have to answer this question, but when your business appears on national television in front of 7 million viewers, there's only one answer: it better be! Shark Tank is an interactive show in many American households; people watch the show with their lap tops, iPads, or smart phones and interact with the Sharks on Twitter and other social media and they google the businesses while they appear. The traffic can be HUGE! A typical business website isn't designed to handle the huge bursts of traffic brought on by a Shark Attack!
Even businesses who appear to plan for the onslaught of web traffic suffer down time when they aren't properly prepared. There are many examples of site going down during Shark Tank. Daisy Cakes, Eco Nuts, CordaRoys, Villy Customs, and others experienced downtimes from a few minutes to a few days. Even Shark Tank Blog crashed the first three weeks we were online due to traffic spikes on Friday nights.
When a business website crashes, that business can't sell its product. That can mean tens of thousands of dollars (or more) in lost orders. When your business gets on, arguably, the biggest small business stage in the world, it should plan to capitalize on the opportunities to convert website visitors to customers. If you have a click-through rate of 2% (meaning 2% of website visitors buy something) and you have 1,000 visitors, you make 20 sales. If you have 1 million visitors, you'll make 20,000 sales! If the website crashes, you get nothing.
How to Build a Business Website for Shark Tank
I figured if I wanted to know what it takes to Shark Proof a business website, I'd ask a guy who did it successfully. I got on Skype recently with Mike Canzoneri, part of the web team that completely re-built the Geek Chic website before they aired on Shark Tank on May 17, 2013. Mike's a big fan of the show (although he confesses to watching on DVR), a systems engineer, and an independent contractor who works on projects like the Geek Chic business website. He was part of the Argyle Technology Group team that entrepreneur Robert Gifford called in when he found out he would appear on Shark Tank.
"Many websites crash during Shark Tank. Small businesses that aren't used to high volume e-commerce are going to get crushed. I've seen landing pages on show night that just said 'sorry, we were on Shark Tank,' and that was the only way for customers to see their site. It's a lost opportunity. A business website needs to be built for the moment of intent, when someone first comes to the site. Whatever that business is selling, they need to be able to convert the sale and to do that, the site needs to be up and running. Just upping the server capacity is not enough."
"That business website is like a small island in front of an oncoming tsunami. The difference in traffic is literally like the difference between a garden hose and a tsunami, if you aren't prepared, you'll be wiped out. Most entrepreneurs are focused on their business and don't have the time or resources to do it themselves, that's why it's important  to hire a tech team who knows what they're doing."
Geek Chic Case Study
"When Geek Chic contacted us, we wanted to over engineer the site. We looked at cost, we didn't want to go with a lot of expensive hardware because it's not needed permanently. We wanted something scalable on the fly and we wanted to test for the worst case scenario. Geek Chic was our first Shark Tank business website, but not our first 'release event,' so we looked at Villy Customs who got 3.2 million hits in 45 minutes when they aired. They had a lot of dynamic content and people tend to stay on their site designing for a relatively long period of time."
"Geek Chic has a lot of image files, which eat up bandwidth. We also had an example of what would happen to Geek Chic. They got mentioned by Patrick Rothluss, a famous fan of theirs on Facebook with 76K followers. A wave of visits came to the site in a short period and the site held up, but it wasn't an extreme case like Shark Tank generates. Wicked Good Cupcakes had 75K visitors in three minutes. That's the type of event we wanted to prepare for."
"The solution we used saves the entrepreneur money rather than just loading up on server capacity. We did this in conjunction with a complete site re-design because Geek chic wanted a boutique/custom solution. Before the show, they wanted people to call them to design a gaming table; we added a design element to the site. What we design doesn't fit into a template style site – it was more integrated from site to shopping cart."
"We decided to go with Amazon Web Services. We had from 2 to 20 servers just for the shopping cart and we set it up so we could raise or lower servers at will. The configuration allowed us to monitor the site live and make changes on the fly, which saved money. The site saw the majority of traffic during time frame of show – both on the east and west coasts. During the commercial breaks following the segment, we got slammed. Traffic scaled back down after the show."
"We were tempted to put a lot of bells and whistles in the shopping cart, but when you keep the cart in the upper right corner, it keeps pages from being static pages, so we knew we had to reduce the amount of dynamic content. The load on the servers didn't happen until someone ordered an item."
"Geek Chic customers are a little different than many Shark Tank businesses. It's a longer sales cycle because your designing a piece of furniture, not buying a widget. On the original air date, they had 40K uniques and  278 k page views –  that's low by Shark Tank standards. People averaged 6.73 pages / visit with an average time on site of 4:08 minutes. 99.457% of all 277,803 page views were served by CloudFront. Show night sales were small – only three items were actually ordered: a stool, a mustache monocle, and a fan club membership. Since the show, sales have spiked considerably, so the Shark Tank had a positive effect on sales."
Suggestions for future Shark Tank Businesses
"You really can't get a truly responsive site with the proper server capacity for less than $180 per month, whether it's a scalable solution or not. The most important thing is for the consumer to have a consistent experience. You need to test, test and test. I'd want to be reassured that things go right."
If you want to Shark Proof your website, Mike Canzoneri can be contacted through his GitHub page.