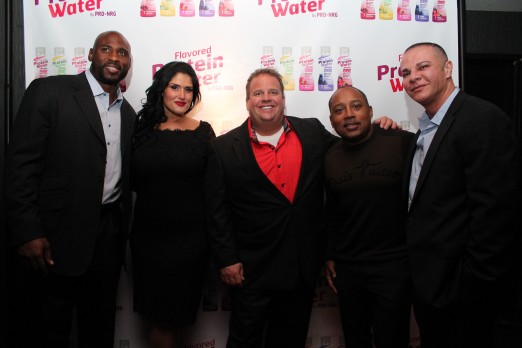 On Monday, October 7, 2013, Protein Water by PRO-NRG officially launched. Tania Patruno, along with New York Giants running back Brandon Jacobs struck a deal with Daymond John last year in episode 406 of season 4. They held the event to celebrate the relaunch, re-formulating, and re-branding of Protein Water by PRO-NRG. Brandon Jacobs, Tania Patruno, Kevin Wright, Daymond John, and Eddie Patruno also announced that the protein energy drink is now available in Walgreens nationwide!
Protein Water by PRO-NRG and Bad Ass Nutrition
When Daymond struck the deal with Tania last October, he had two conditions: Brandon Jacobs needs to stay involved and Bad Ass Nutrition needs to get involved. Since the Launch Party was held at Jacob's NY Nightclub, SL, we know he's still involved. Kevin Wright from Bad Ass Nutrition was in attendance too; he was instrumental in re-branding PRO-NRG and getting the Walgreens deal.
Bad Ass Nutrition completely overhauled the PRO-NRG brand. The biggest change was in the drink itself: there are new, more vibrant flavors and the consistency of the drink doesn't have any solids. I tried PRO-NRG last year and liked it, I love the new flavors!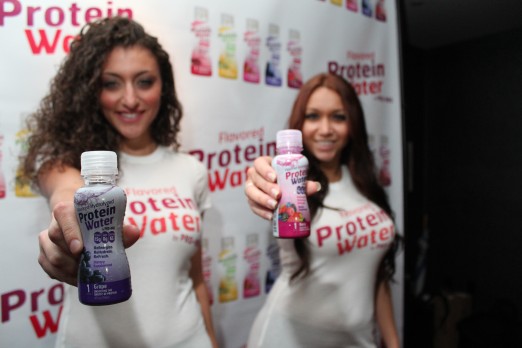 They tweaked the packaging, too. The bottles are contoured now and the label has a more lively look compared to the more utilitarian style of the old labels. Most importantly, the product is now called Protein Water by PRO-NRG, with the emphasis on the bottle on "Protein Water."
"We did what we needed to do." Kevin explained, "When your on the shelves at Walgreens, branding is important. We've completely re-branded and re-flavored the product for the mass market. We're real excited for this year and what we're going to do with PRO-NRG." Bad Ass Nutrition also got up and coming, undefeated middleweight boxer Glen Tapia to endorse PRO-NRG.
Daymond John and PRO-NRG
Daymond is still involved with Protein Water by PRO-NRG, if it wasn't for him, Tania certainly wouldn't have come this far so fast. "Daymond's been great," beamed Tania, "we've come such a long way since we did our deal. It's overwhelming. Kevin really supported us and made a lot of things happen for us."
During the event, Daymond acted more like an emcee, introducing Brandon, Tania and Kevin. He mingled with the crowd and took pictures with everyone. He told the crowd the party will be featured in an update segment on Shark Tank "probably in or around February."
Party Time at SL (Simyone Lounge) in New York City!
The best part of a product re-launch is the PARTY! Tania and Eddie were gracious and invited me down to New York, so I took them up on it. Held at Brandon Jacobs' Simyone Lounge, the PRO-NRG task force greeted guests at the door.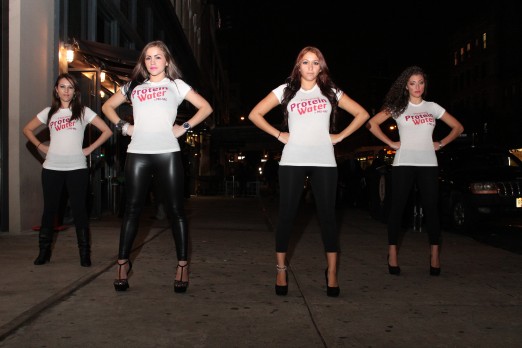 The ladies were kind enough to pose for pictures with all the guests.
Tania and Eddie Patruno were beaming, it was their big night.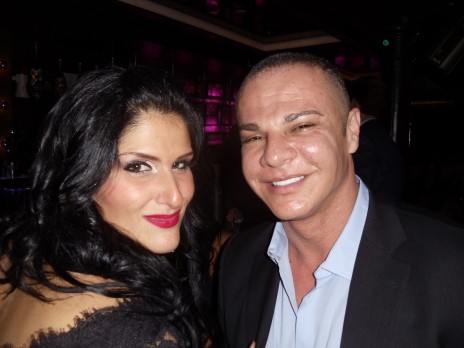 They announced their affiliation  with School Tip Line, an anti-bullying program for schools.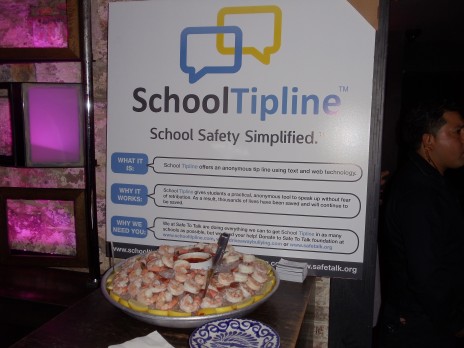 Undefeated Middleweight boxer Glen Tapia joins Brandon Jacobs as an endorser for Protein Water by PRO-NRG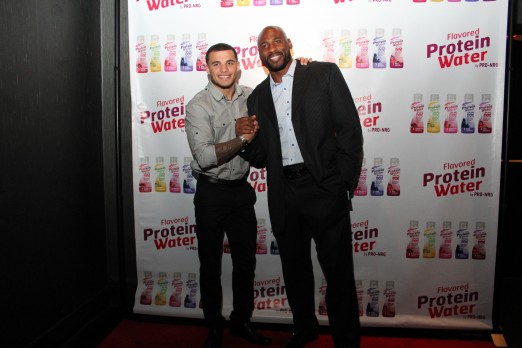 Glen hammed it up with me as we talked boxing!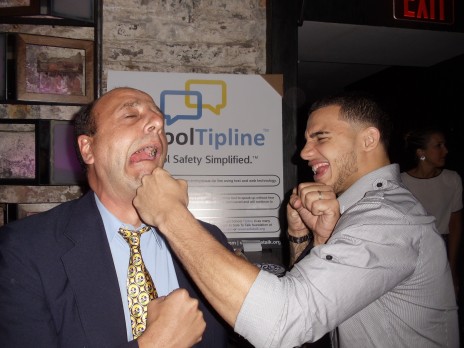 The night was all about the re-launch. Daymond introduces Kevin Wright from Bad Ass Nutrition and Tania Patruno. Protein Water by PRO-NRG will have an update segment on Shark Tank in February.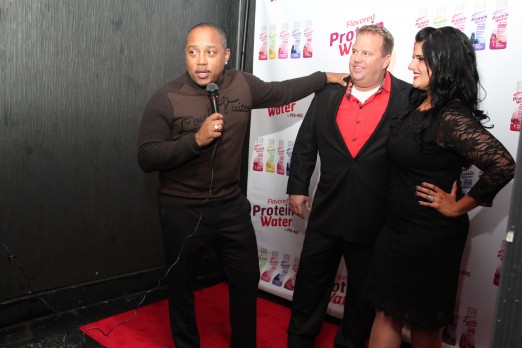 Kevin Wright and Tania Patruno talk brand strategy and share a smile.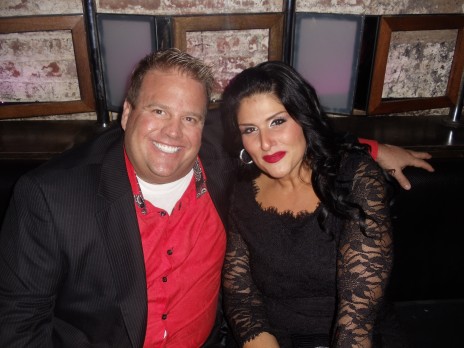 The PRO-NRG story is a true Shark Tank Success! Daymond John, once again, proved to be a gentleman and a true champion of entrepreneurs. Watch for big things from PRO-NRG.
Here's a video of the event:
Photos and Video Courtesy of CINESTYLE MEDIA GROUP – ROB HAWK