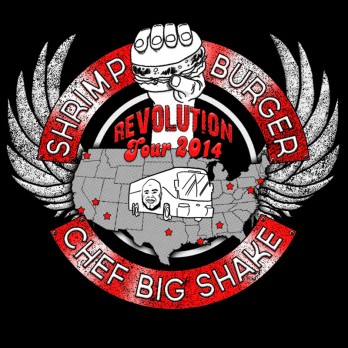 There's a revolution brewing, a Shrimp Burger Revolution! Shawn Davis aka Chef Big Shake from Shark Tank Season 2 didn't get a deal for the Original Shrimp Burger, but he did get an update segment in episode 301 of season 3. Ever since Chef Big Shake left without a deal, every time Mark Cuban gets asked about deals he regretted NOT making, he mentions The Original Shrimp Burger.
"Mark is a true gentleman," says Shawn, "even though he hasn't funded us, he's been there with advice. If I email him, he gets right back to me. He's been really great to us."
After leaving Shark Tank, Shawn went on to do big sales. Even though he is a Shark Tank success story, he's finding it difficult to compete with the big food conglomerates when it comes to shelf space in super market chains. So he's decided to take his case to the people with The Shrimp Burger Revolution Tour!
I caught up with Shawn so he could fill me in on the details of his event.
Everyone needs a Shrimp Burger
Shawn had success getting on the shelves at BJ's Wholesale Club, Stop and Shop, Price Chopper, and other supermarket chains, but he still doesn't have the national presence he (and consumers) would like. He told me last year sales were basically funding his growth, leaving little for marketing. That's what led him to come up with the Shrimp Burger Revolution Tour.
"The folks at KickStarter contacted me after I first aired," Shawn explains, "they thought that I would be successful on their platform, but I never really looked into it. Over time, I became more intrigued with the idea of 'the people speaking.' We're still a small company trying to compete with big, national brands for shelf space and our competitors have huge budgets."
"Even though we sell on QVC and we're moving more toward eCommerce, it's disappointing when people who want our product can't get it at their local store.  We took another look at Crowdfunding and I decided we'd take our case to the people. That's where the idea for the Shrimp Burger Revolution Tour came from. Since appearing on Shark Tank, people have been very supportive and we hope they'll support the tour. We want to take our Shrimp Burgers to different cities and let people try it for themselves."
Chef Big Shake goes with IndieGoGo
Chef Big Shake didn't go to KickStarter, he went to IndieGoGo, to help fund his tour.
"We're doing a Crowdfunding campaign on IndieGoGo. I thought by going in this direction and reaching out to the people, we could let more people try our products. The people showed support in the past and by giving people the choice to help bring us to their city, we hope to get that national presence. We want want to give them the opportunity to meet us and try the product.
The Shrimp Burger Revolution Tour kicks off on November 3 at FedEx Field. Chef Big Shake and crew will be handing out Shrimp Burgers at a tailgate style party before the Redskins game. More dates will be added as funds are raised to get the show on the road.
"We want to do a roadshow, tailgate style. We're going to expand in markets we're in, but we're focusing more on the west coast because we have no stores there, so we're going to spend some time on the west coast. There are three dates in Texas planned too. At each event, we want people to sign a form requesting the Shrimp Burger get put on their local store shelves. Big chains are a target, but we'd like to get into the smaller, regional chains and the 'mom and pop stores' too."
Why $50,000?
As the IndieGogo Campaign states:
"$50,000 is the minimum amount we need to take The Shrimp Burger Revolution Tour on the road. Your money will help cover all of the costs associated with the tour including travel (what we are traveling in), Shrimp Burgers to give out as free samples, Hotels, Gas, etc. We have also built in the cost to get all of the rewards created and shipped. The truth is, we truly want to see this movement become a revolution. We want to show retailers that if people are requesting products from smaller companies, they should listen. Retailers should give more chances to companies without big budgets for slotting fees and mass marketing.CONSUMER DEMAND WILL SPARK RETAILER REACTION. Thank you for taking the time to check out our page and for joining us on this journey."
When you help fund the tour, you'll get CBS Foods products, tee shirts and more, so funding the tour gets each person who donates something in return. For instance, a $55 contribution gets you 2 boxes of Shrimp Burgers and a bottle of Chef Big Shake's Hot Sauce. You get product, and you help a small business take it to the next level.
Even if you can't contribute, you can show support by checking out the road show in your city. By signing to ask retailers to stock the Original Shrimp Burger, you're doing your part to get the product noticed by buyers. Here are the tour dates:
November 3, 2013 – Fedex Field Landover, MD
November 10, 2013 – M&T Bank Stadium Baltimore, MD
November 17, 2013 – Lincoln Stadium Philadelphia, PA
November 24, 2013 -Metlife Stadium Rutherford, NJ
December 1, 2013 – Metlife Stadium Rutherford, NJ
December 8, 2013 – Chargers Stadium
December 15, 2013 -Oracle Arena Oakland, CA
December 22, 2013 – Seahawks Stadium Seattle, WA
??? Your City???
To help support the Shrimp Burger Revolution Tour and get this small business a leg up nationally, check out the IndieGoGo Campaign. There are delicious perks for those who help and you can enjoy more CBS Foods goodies at a tailgate party on one of the stops.