Episode 406 – Shark Tank Season 4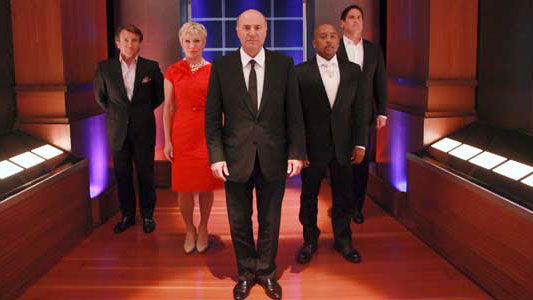 Four new entrepreneurs step into Shark Tank Episode 406 during Season Four. They are all hoping to receive an investment from one or more of The Sharks. Cousins Lobster Truck sells fresh Maine Lobster to seafood lovers in Los Angeles. Jim Tselkiis along with Sabin Lomac recently added a storefront location. The business partners are pitching The Sharks to fund their planned expansion. Entrepreneur Zach Crain brings a Freak Show to the foam koozie. Zach enters Shark Tank sporting a gentlemanly top hat and coat, combined with colorful shorts. Presentation is everything when he tells Herjavec, "Robert I love you man!". This guy is has a mission to "Freak the World." Infused sports protein drink, PRO-NRG founder, Tania Patruno brings NFL great Brandon Jacobs from Pro Football's, New York Giants and San Francisco 49ers to pack a punch in her presentation. Finally, EcoNuts introduces Shark Tank Investors to their line of organic, all natural soaps made from soapberries. Entrepreneurs, Scott Shields and Mona Weiss, share a love for the environment, and look to take their niche leading organic soaps and cleaning products to the masses.
Follow up segments featuring past Shark Tank success stories are a regular feature on Shark Tank.  Episode 406 updates fans on Kisstixx, the complementary flavored lip balm that Barbara and Kevin demonstrated with a kiss! Mark Cuban invested in Kisstixx in episode 311 in season 3 and Kisstixx has gone on to do HUGE sales numbers since then.
There are 24 Shark Tank Episodes for Season 4. Casting for season 5 is now open! If you would like to appear on the show, check out our Auditions and Casting information.
Episode 406 – The Shark Investors and Entrepreneurs
The Shark Tank Episode 406 entrepreneurs will make their best pitch to the panel of five Shark investors who will use their own money if they choose to invest. The Shark Investors negotiate on the spot without any previous information, which differs from typical negotiations between venture capital investors and entrepreneurial start-ups.
Companies pitching the Shark Investors must go through a rigorous due diligence process before an on-air deal is completed. Shark Tank Blog follow ups help you keep track of the companies that end up successful and the ones that don't complete their deal.
Thank you for reading SharkTankBlog, the number one site for Entrepreneurs, Investors and Fans. Our content updates multiple times day, giving you the latest information on Episode 406, Season 4, and all other seasons and episodes.