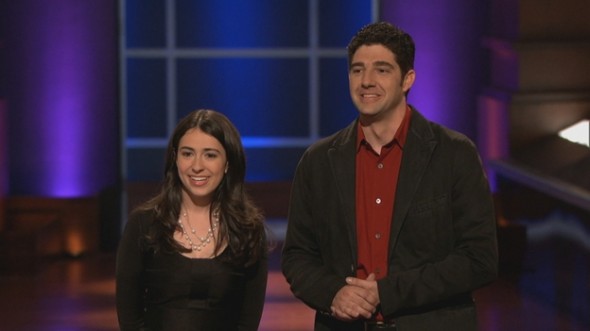 EcoNuts are a line of organic, all natural soaps that harness the power of "soap berries" or soap nuts, which come from the Himalayan Lychee tree. Entrepreneurs Mona Weiss and Scott Shields pitch their business to the Sharks in episode 406. The EcoNuts laundry detergent cleans clothes without harsh detergent and the soap nuts act as a natural fabric softener too. EcoNuts is a green business utilizing all natural ingredients for their products and recycled packaging materials. Weiss and Shields developed a proprietary process to remove the seeds from the soap nuts (which can leave stains and germs). There are many other organic soap products on the market, but EcoNuts is the niche leader.
EcoNuts Shark Tank Recap
Scott and Mona came to the Shark Tank seeking $175k for a 15% share in their business. They did about $100k in sales in 2011 and $250k for 2012. Most of their marketing and product awareness is done via social media as Mona is a self-described "social media ninja."
Kevin doesn't like the valuation, he's out. Daymond thinks Scott is off when he says it's a million dollar market; he's out too.  Robert likes the business, but wants 50%. Mona tells him he better be working 16 hours a day for that kind of split, Robert goes out. Mark doesn't like their marketing strategy; he's out. Barbara thinks Scott and Mona make a cute couple, but she's out. Mr. Wonderful offers to marry them in the Shark Tank, but Mona and Scott are "out" on that!
EcoNuts Shark Tank Update
Unbeknownst to viewers at the time, Mona was violently ill prior to taping, but she gutted it out. For several weeks following the original air date, Mona, Scott, and their 5 employees were shipping product non-stop. The young entrepreneurs are still happily engaged, they're too busy building their business to take time to plan a wedding! In September, EcoNuts  was voted the "Best New Green Product" for its large laundry detergent by the 22,000 attendees at the Natural Products Expo East in Baltimore. They also won a NEXTY Award  in the Natural Living category (NEXTY celebrates companies shaping the future of natural and organic products).
Mona confided in an email message that they have "a lot of big meetings and things this next weekend as a result of the show, but I can't quite comment on it yet." She also mentioned they have increased foreign distribution and are in talks to expand into more foreign countries.
As the years went by, EcoNuts continued to sell steadily. The business is fine, but unfortunately, Mona and Scott never did get married. In fact, they split up in late 2015. Shortly thereafter, Mona left the company. Over the years, they added to the line of products. In addition to the berries, they sell dryer balls, liquid detergents, skincare products, beard care products, toothpaste and toothbrushes, bar soap, essential oils and much more. As of July, 2021, the are still in business and have $1 million in annual revenue. In March, 2022, the company announced it was going out of business and was no longer taking orders.
Posts About EcoNuts on Shark Tank Blog
Soap Nuts Tycoon Mona Weiss of EcoNuts Interview
Eco Nuts Gets Sharks Lathered Up
EcoNuts Information