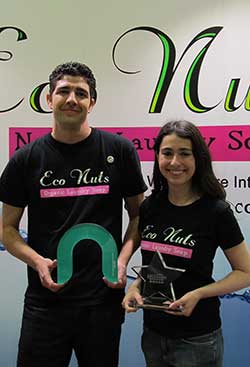 Eco Nuts Organic Soaps bring their all natural, organic laundry detergents and soaps into the Shark Tank Friday night hoping they'll clean up with some cash for their environmentally friendly soap business. Entrepreneurs Scott Shields and Mona Weiss will present their "nutty" eco-friendly cleaning products in what promises to be a pitch that gets both the young entrepreneurs and the sharks all lathered up.
About Eco Nuts
Mona is a young woman with quite a past; she was on Sesame Street as a 5-year-old and has done environmental rehabilitation work from Massachusetts to the Costa Rican rainforests. She's had life long skin allergies to laundry detergents and is very careful about what products come in contact with her skin.
Scott is an "ecological enthusiast" who loves ocean water sports like Stand Up Paddle Boards, surfing, and snorkeling.  Like Mona, he's had some acting experience:  he appeared in the first two "Pirates of the Caribbean" movies. A self-described "life-long entrepreneur," Scott founded Eco Nuts with Mona when he was finished being a pirate. His love for the ocean drives the goal of making Eco Nuts packaging as environmentally friendly as possible.
The two entrepreneurs shared a love for the environment when they discovered soap nuts and decided to start their business. The marriage of a need for natural, organic soaps and environmentally friendly packaging led the pair to start Eco Nuts back in 2008. Last year, Eco Nuts won a Nexty Award for "being pioneers in the natural products industry." Their line of organic soap berry organic laundry detergents, household cleaning products, and natural bath and body products have become very popular with people who have sensitive skin and folks who are concerned about the environment.
What are Eco Nuts?
Eco Nuts is a brand name for commonly available berries and/or nuts from twelve species of shrubs and small trees in the Lychee family. These plants are found in warm to tropical climates throughout the world (including the USA). Commonly called soapberries or soap nuts, the fruit from these plants is used to make soap. There were other soap nut products on the market before Eco Nuts came along, but Weiss and Shields developed a proprietary process to remove the seeds (which can leave stains) and germs. In doing so, they made Eco Nuts safe for babies and they were able to use the by-product of the soapberries, Saponin, in a wide range of household soaps and cleaning products.
The combination of organic, all natural ingredients and environmentally friendly packaging makes Eco Nuts a big hit with a growing number of consumers concerned with both environmental and product quality standards. While there are many other organic soap products on the market, Eco Nuts is the niche leader.
Soap Berries in the Shark Tank
Shark Tank has seen more "green" companies this season. As the American consumer becomes more aware of the benefits of organic and environmentally friendly products, more and more companies are springing up to meet the demand. Eco Nuts just so happens to be a leader in the organic soap category. Shark Tank obviously recognizes the green trend; to date we have seen cloth diapers and organic, gluten-free cookies in the Shark Tank. The sharks have not bitten into green opportunities this season: either the valuations have been wrong, the sales have been off, or patent issues have arisen.
Maybe the Sharks just aren't "getting it" when it comes to green businesses. In most cases, companies that use completely organic ingredients have a product that costs a little more than standard, mass-produced items. This can make a business look less competitive initially, but I don't think the sharks are grasping the broad impact of green products. Consumers are willing to pay a little more for certain products if there is an organic or health component. Buying green is usually better for your body and the earth. Call it social consciousness as a marketing tool if you like, but the Sharks need to wrap their fins around this marketplace if they want to swim with a growing number of successful green companies.
Given the history of the sharks with green businesses like Eco Nuts coupled with the scathing exchange between Mona and Mr. Wonderful in the previews following episode 405, you'd think the sharks don't do a deal. This could just be a diversionary tactic to throw viewers off (Mark Burnett is an expert at this). Given the increasing market for green products, an organic soap company, especially a leader in the space like Eco Nuts, is an excellent investment. Eco Nuts laundry detergent is priced comparably to a bottle of premium laundry detergent: a package of Eco Nuts laundry soap that does 100 loads of laundry  is less than ten bucks. The green "price mark up" simply isn't present here, they have recognition as industry leaders, and I suspect Eco Nuts will have very solid sales numbers.
The sharks should invest in this company, whether they do or not, I am "IN!"