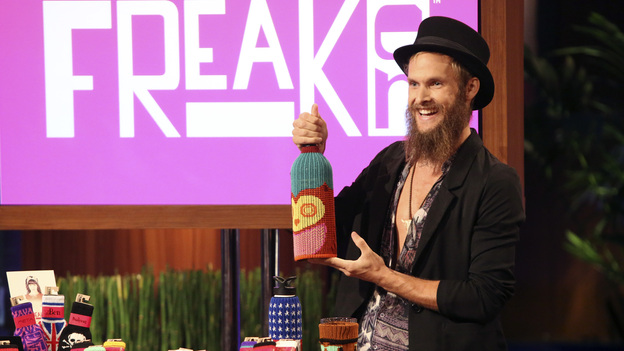 Freaker USA makes a series of  knit beverage container covers that inventor Zach Crain originally learned to make in a knitting class in Wilmington, NC.  Zach pitches the Sharks his successfully funded Kickstarter business in episode 406; Freaker USA was voted one of the top 12 Kickstarter campaigns for 2011 and raised over $60K. Freaker USA is essentially a sweater for a beverage container; think knit fabric koozie. The patented product can hold a standard 12 ounce bottle, all the way up to a 2 liter bottle and everything in between. Zach comes off as a wild, wacky character who is having a lot of fun in the Shark Tank. Freakers are made in the USA in Troy, NC. Zach and his team are on a mission to "Freak the World!"
Freaker USA Shark Tank Recap
Zach came into the Shark Tank seeking $200k for a 10% stake in Freaker USA. He discussed numbers with the Sharks, but the edit focused more on his wacky personality than the actual business. Freaker USA did $350K in sales with $50K left over after paying everyone! As Zach "beeped" and "whooped" his way through his pitch, the edit made it seem the Sharks thought he was nuts!
Kevin values the company at $400K and offers $200K for 50%; Zach doesn't accept that, so Kevin is out. Barbara loves Zach, but not his valuation; she's out. Robert also likes Zach, but he's out too. Daymond doesn't have passion for the product so he's out too. Mark likes the product and sees a lot of potential opportunities, but he can't deal with Zach's "whooping" and "beeping." Mark is out and Zach leaves the Shark Tank with no deal for Freaker USA.
Freaker USA Shark Tank Update
Freakers are available all over the USA in funky, boutique type of stores and they are rolling out college Freakers. Licensing is part of the Freaker USA strategy, but Zach is taking a measured approach. He won't go into any new distribution channel until he knows the company can handle it. Zach may have looked like a crazy person on Shark Tank, but he's crazy like a fox!
In March, 2013, Liberty Bottleworks announced a partnership with Freaker USA. Liberty Bottleworks manufactures 100-percent recycled aluminum bottles and Zach Crain used one during his Shark Tank pitch. This prompted Liberty's owner, Tim Andis, to give Zach a call. Freaker now creates proprietary covers for all Liberty's bottles.  Freakers are available on Amazon, the Freaker website, and the Liberty Bottleworks website.
Unfortunately, a little over a year later, the partnership between Liberty Bottleworks and Freaker has dissolved. According to the folks at Freaker, the Liberty Bottleworks folks started selling knock-off Freakers and the relationship was terminated.
In early 2015, Freaker set out to make Freaker Feet – funky socks to match the Freaker designs. In March, 2015, my wife and daughter visited Freaker's "world HQ" in Wilmington, NC. Zak was meeting with the sock factory people at the time, but an assistant let us tour the facility.  They also developed Slippys, smaller versions of the Freaker for cups and mugs. All their products are available at their website and Amazon.
The company sells in thousands of gift shops too. I've seen them in my travels and 2 or 3 gift shops in my city carry them. They also did licensing deals with the NFL and DC Comics. Zach and the gang built a solid profitable company over the years and annual revenue as of March, 2023, is $6 million.
Posts about Freaker USA on the Shark Tank Blog
Company Information