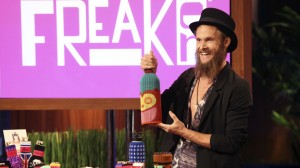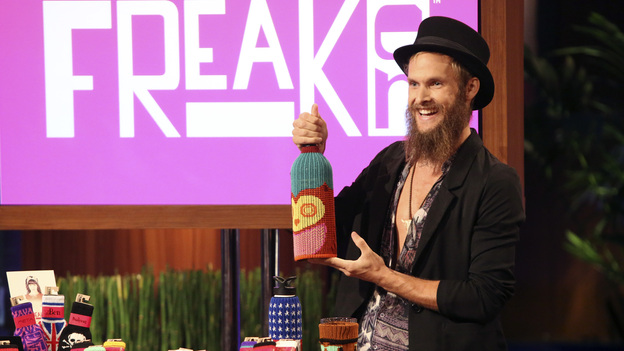 I interviewed Zach Crain, the guy who invented the Freaker earlier this week. His pitch on Shark Tank was one of the wackiest of season four, or any season for that matter! Zach proudly proclaims his products are made in the Freakin' USA and claims his mission is to "Freak the World!" His pitch to the sharks was filled with "beeps" and lines like "can I get a WHOOP?" The sharks whooped back at him!
Freak the World and the Shark Tank
I am not sure how far along Zach is with his mission to freak the world, but he sure freaked out the Shark Tank! While the sharks found him amusing and liked both the product and the numbers, they all went out. Zach wishes they showed more of the actual business side of the discussions in the final edit instead of making it a freakin' comedy show, but he's cool with how it turned out.  He's selling a freakin' ton of Freakers, thanks to the exposure the product got on the show.
Whoop
Zach was kind enough to provide a few Freakers for a prize on the Shark Tank Blog's weekly contest. He also sent a few to my home to try out. I'll be saving two for stocking stuffers for my college aged kids this Christmas, but I kept one for myself. For those of you who don't know, the Freaker is like a sweater for your beverage, regardless of the container's size and shape. Can I get a whoop?
I pulled out a bunch of different sized containers out of my fridge and gave the Freaker a try. The one I kept looks like Charlie Brown's sweater. It doesn't look like it will fit on anything, but I was surprised it even fit on a HUGE bottle of apple juice and even a pumpkin! I just had to shoot a quick video. It's not up to Zach's standards, but we had fun with it!
Enjoy the video. Whoop!