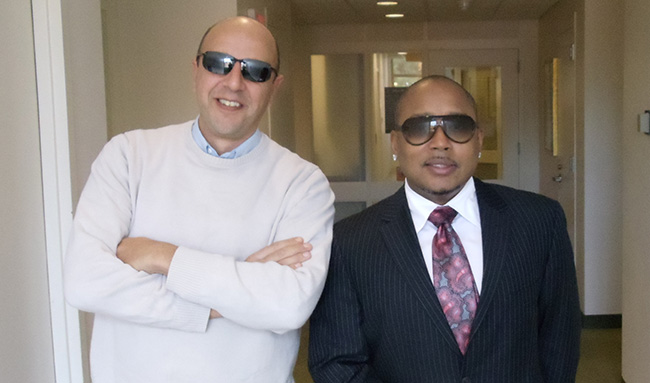 StartUp America held a media event on October 23 at Babson College in Wellesley, MA to celebrate the latest winner of the consulting services contest sponsored by Startup America , Daymond John, and Babson College. The winning company was Zboard, a startup that makes a battery-powered, electric skateboard. Zboard was founded by young entrepreneurs Ben Forman and Geoff Larson who saw the need for fast, easy, and portable urban transportation. I was lucky enough to attend and get the chance to meet Daymond and see the changing face of entrepreneurship first hand.
StartUp America Press Conference
The press conference began with introductions by Babson College President, Len Schlesinger. He introduced the speakers: Kathleen Warner, StartUp America COO; Zboard entrepreneurs Ben Larson and Geoff Forman, Shark Tank Star and Babson College Entrepreneur in residence Daymond John; How Lau, Babson MCFE student and StartUp America consulting services panelist; and Scott Case, StartUp America CEO.
It was a morning of celebrating entrepreneurship. Scott Case and Len Schlesinger both spoke about the importance of entrepreneurship in turning around the US economy and providing opportunities. Scott Case said companies like Zboard "are an example of what is possible in our country. They're actually making their product here in America and we need a lot more of that activity." He went on to say successful start-up companies will be "a key strategy to the success of America's economy."
Daymond John on Young Entrepreneurs
Daymond John spoke to many of the same issues. "I am excited about StartUp America and helping Zboard and young entrepreneurs," he said,  "when I started, I didn't have this kind of guidance; it  was costly and it took many years. I admire the energy of these young entrepreneurs, they look at things so differently these days, I don't see a lot of the things that they do. They are our future." He echoed StartUp America CEO Scott Case's comments when he said "entrepreneurs are what is going to get us out of this funk we are in as a country."
Just like on Shark Tank, Daymond had some humorous comments as well. "People think of us as Sharks because we take advantage of small businesses. That's not true. What makes me a shark is I have no problem beating up Mark Cuban or Barbara Corcoran for a profit!" He went on to say, tongue firmly in cheek, "being associated with StartUp America is selfish for me, it's allowed me to attend the number one entrepreneurial school in the world and I didn't have to pay." Daymond definitely got the biggest laughs of the morning.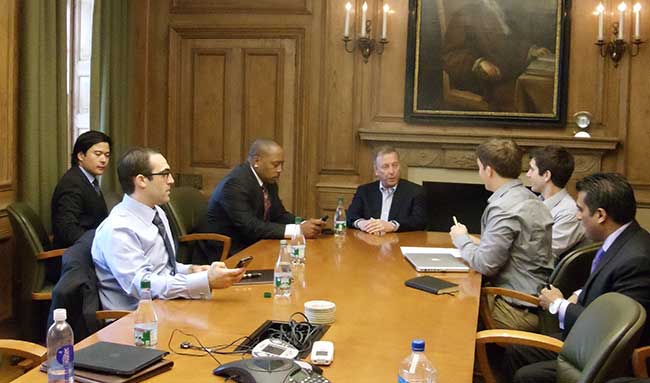 Once the press conference was over, the group broke up for photo opportunities with the StartUp America principles, Babson College dignitaries, Zboard entrepreneurs, and Daymond.  Next, it was time to test out the Zboard. I had a chance to chat with Daymond between photos. On his favorite Shark Tank entrepreneurs, he was pretty clear: "Everyone I partner with is my favorite."
Education provides Hope
Daymond has a history of being involved with educational endeavors besides StartUp America. Last spring he addressed high school students across the nation in a Google Hangout. He often speaks to college and entrepreneurial groups too. It seems like he speaks in some sort of educational capacity just about every week, it's one of the things I find most admirable about him: his willingness to educate young people, particularly young entrepreneurs. I asked him about that and  he said "we all work with education to some extent. I know Mark and Barbara do, we all do. What I find most satisfying is the hope in the eyes of the entrepreneurs, that's what does it for me."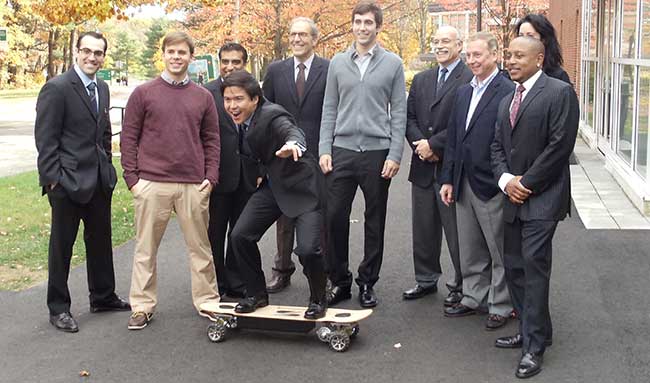 Once the indoor photos were done, the group headed outside for more. A few of the StartUp America guests tried out the Zboard; Daymond was no exception. He was dressed in his trademark killer pinstripe suit while zooming up and down the sidewalk on the Zboard. He's an avid snowboarder, so he seemed pretty comfortable on it. He was surely the best dressed skateboarder I have ever seen. I asked if he'd be coming out with a line of pinstriped skater gear. "You never know," he quipped.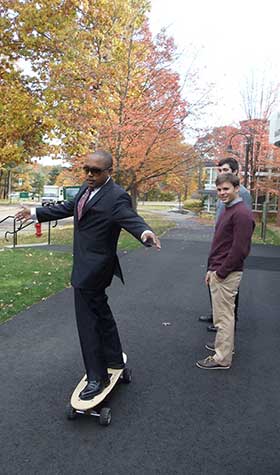 Daymond John's Favorite Entrepreneurs
As we walked to another building for lunch, we continued to chat. I asked him if he regretted not investing in someone. He said "I never regret not partnering with someone. It has to be the right fit. Take the Shrimp burger guy – he's a great story, but he wasn't the right fit for me. If I partnered with him, he never would have gone to that big food show in Chicago and made all those connections. Another example, I was negotiating with Eminem, and I passed on him. People always say to me 'I can't believe you passed on Eminem,' but had I worked with him, he never would have met Dr. Dre. It was a good thing for him too, if he went with me, he would have been an out of work rapper!"
"I like to stay in my area of expertise. Take Tower Paddle Boards, Cuban has been successful with them because he's a tech guy, I wouldn't have been a good fit. Clothing and fashion are my areas of expertise, Lori has some expertise there too." He gave me a wink and said "she's an expert on everything, she's a smart lady."
Once we got to the luncheon, Daymond began the first StartUp America consulting services session with Geoff and Ben from Zboard and we parted ways. As the consulting session got under way, I spoke with Elizabeth Thornton, Adjunct Lecturer of Entrepreneurship at Babson and a big Daymond John fan. She was one of Daymond's professors and she spoke fondly of him. "Daymond is kind of my project. He brought this StartUp America opportunity to us and he brings great value to the college."
The thing that struck me most about Daymond was he was so down to earth. He was very easy to talk to and you could tell he genuinely believes in helping young entrepreneurs. This was the real Daymond John, not "the shark Daymond." Often people you see on TV are far less likable in person; Daymond wasn't that guy.
Here is an abridged video of the StartUp America press conference at Babson College:
I also asked Daymond "The Question." You can get his video answer on Hot Dog Stories.