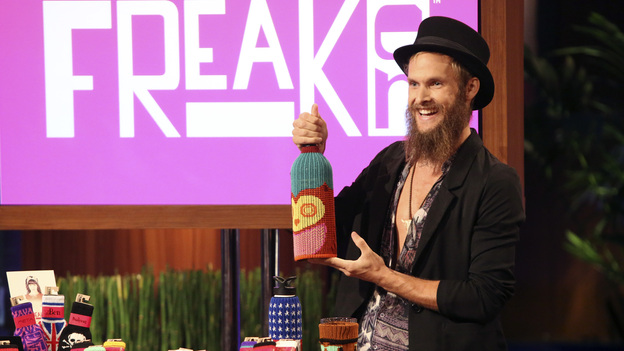 Zach Crain, the wild and wacky "beep beep beeping" inventor of Freakers made quite a splash in the Shark Tank when he underwhelmed the sharks with his pitch to fund his business, Freaker USA. He left without an investment, but Zach endeared himself to Shark Tank fans with his quirky persona and very silly pitch. Clips from his appearance will surely be long time favorites. I caught up with the Wilmington, NC resident to get his reactions to his Shark Tank appearance and to find out what is in store for Freakers in the post  Shark Tank world.
In case you missed it, Freakers are a knit beverage container cover that Zach originally learned to make in a knitting class in Wilmington. "The first thing I learned to make was a knit koozie," he explained, "and on a trip to New York, I saw street vendors selling knit items. I thought it would be a cool way to make money without having to get a job, so when I got back to Wilmington, I just drew from the talent there."
Zach part of a new breed of Shark Tank entrepreneurs
Freakers are part of a growing trend of entrepreneurs in the Shark Tank. Zach was actually approached by a producer prior to Freaker USA's successful KickStarter campaign, asking if he wanted to be on the show. "It was too soon, so I said 'no thanks,' but a second producer contacted us after we did the KickStarter, and I said yes."  Zach and Freakers is one of several companies, like FuzziBunz and BuggyBeds, in season four that were asked to be on the show. "We didn't want to rush things, we wanted to make sure our packaging was right," he said.
Like most businesses that appear on Shark Tank, Freaker USA saw a jump in their web traffic. "It's a little hard to prepare for the website volume since they only tell you when you're going to air about two weeks ahead of time. The website got a lot of traffic, we did about 100 times our normal sales volume on show night."
Wholesale inquiries have stepped up too. "We're still weeding through all the emails. We were talking to some people about wholesaling before and appearing on Shark Tank has certainly lubricated that process."
A Little Freakin' History
Zach is what some people would call "bohemian." Five years ago, he was traveling around the country, living in his car. He kind of settled in Wilmington, NC where he took that now fateful knitting class. "I really didn't set out to start a business, I didn't plan things out, it just sort of happened." He tested the Freaker, initially made from old sweaters he cut up, in a local store and found they sold well. "I was over hand knitting them, that's why I found a factory to do it. That's when we figured out they can stretch to fit any bottle." Despite his casual approach toward the origins of Freaker USA, Zach confessed he draws inspiration from his parents. "My dad is a super business dude and my mom is this super silly person, so I guess I get a little of both of them in the business."
Freakers has considered licensing, but the business is taking a measured approach. "We wanted to overcome the initial negativity of people saying 'oh, it's a koozie' before we rolled out in a big way. We wanted to create awareness and make it cool before we started talking about licensing and mass retailing."
Freakers Freaky Marketing
Making Freaker USA cool is exactly what Zach and the Freakers crew, which now numbers 7 employees, have been doing. Their marketing is fast, funny, funky, and a little bit crazy. Zach elaborated on the strategy, "We wanted to do crazy, over the top stuff to get attention for Freaker USA. It's definitely a calculated approach, but we really are crazy!" Zach took his over the top marketing on the road in the summer of 2011 with a custom box truck he drove from Wilmington out to California via the southern route. The Freakers crew traveled all the way up the west coast to Republic, WA on the Canadian border, then across the country to New York City before heading back to North Carolina. "We handed out grilled cheese along the way as a way to break bread with our customers."
What's Next for Freakers?
"Like I said, being on Shark Tank has opened some doors. We're at the point where we could do it on a larger scale now. I didn't want to make a deal with a big chain and then blow it. Being on Shark Tank was a big step, we have some recognition that we didn't have before, so now is the time to make those moves."
What went down in the Shark Tank
Zach was portrayed as a pretty silly character, but as fans of Shark Tank know, what you see on air isn't always the whole story. "A lot of the business stuff was left out. We made $350K in sales and netted $50K after paying ourselves, I think that got lost, but you have to trust the producers know what will get the best ratings. It would have been nice if I was portrayed as smarter; the edit made me seem off kilter and portrayed me as just having a good time, which I am, but you have to accept that could happen. As for the silliness, they could have made me look a lot sillier. I was doing hand stands and the 'George Costanza couch pose' in the waiting area before I walked down the hall into the studio. After the taping, I doused my beard with water and shook it out. They definitely could have made a much sillier edit!"
Zach wasn't a fan of Shark Tank until he was approached to appear on the show, but he's started watching now. "I find it enjoyable, I enjoy the characters on the show. That's what the sharks are – characters. Kevin O'Leary needs to get some new lines though, when he started in with 'let's break it down to money,' I thought 'oh, there he goes – that's what he always says.' Robert seemed to be the most down to earth of all the sharks, so I guess he is my favorite."
Freaker USA Moving Forward
"Like I said, we want to continue to build awareness so when someone sees our product with say a Steelers logo on it, they'll say 'hey, that's a Steeler Freaker.' If we were to roll out in a big chain store, we want people to know what Freakers are. We're hoping they'll say 'oh yeah, I saw that on Shark Tank.'"
I asked if Zach had any parting words of inspiration. His answer was a resounding "Beep beep beep, WHOOP!"
I had one other question for Zach; he answers it on The Hot Dog Truck.