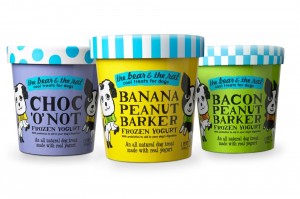 The Bear and The Rat Cool Treats for Dogs is one mouthful of a business name and entrepreneurs Matt and Meg Meyer bring those mouthfuls into the Shark Tank for episode 407. The couple has been making their cool treats for dogs since 2010 and they hope the sharks will invest in their probiotic, gluten-free, frozen yogurt for dogs.
Meet the Meyers, The Bear, and The Rat
Meg is no stranger to TV, she used to work at HGTV and the Food Network as a reality TV producer. I doubt she ever dished up shark at the Food Network, but her previous experience should serve her well in the Shark Tank. Matt is a former food distributor, so he knows that side of the business.
The couple loves dogs, particularly their rat terrier, Laika (The Rat) and Quimby, their  Lhasa Apso (The Bear). These little guys were the inspiration for the business name. Matt always liked feeding his dog ice cream as a kid, but it made him sick. He wanted to be able to make a frozen treat for dogs, so frozen yogurt with active cultures fit the bill.
The Bear and The Rat Cool Treats for Dogs is Born
They had the idea for Cool Treats for Dogs for some time; Matt and Meg thought they could sell their treats at dog parks. When smart phone technology allowed them to accept credit cards, they decided to go for it. They started making Cool Treats for Dogs in their kitchen in small batches in April 2010. This required a license from the Department of Agriculture.
As their business grew, Meg and Matt sought out ways to make Cool Treats for Dogs in larger quantities. This led them to a contract ice cream packer in Boulder, CO in August 2010. They helped the Meyers with packaging and generally advised them on the trials and tribulations of bulk ice cream packing. By May of 2011, Cool Treats for Dogs was ready for the mass market.
Do Sharks like Frozen Yogurt?
The Bear and The Rat Cool Treats for Dogs is for dogs, not people. There has been a funny video circulating of the Sharks tasting the product while grimacing. People might not like Cool Treats for Dogs, but dogs gobble it up. Robert Herjavec is the dog lover in the Shark Tank, so he is an obvious target for Meg and Matt. In the same video, Robert actually drops the Rat! Maybe he'll feel obligated to invest after that faux pas.
Cool Treats for Dogs has very little competition in their space. Meg and Matt claim there are only about 10% of dog-owning consumers that are even aware of frozen dog treats. The only real competition is Purina Frosty Paws which doesn't have the nutritional benefits that Cool Treats for Dogs has. The Meyers have Cool Treats for Dogs in pet shops and boutiques in Colorado, California, and New Jersey and they are in Whole Foods Markets all over Colorado.
The Sharks have not been fond of pet products in the past, Mr. Wonderful thinks they are too "niche." Cool Treats for Dogs has proof of concept, however, and they should have decent sales figures. The Meyers' ability to get Cool Treats for Dogs onto the shelves at Whole Foods will certainly help their cause. While pet foods haven't done well in the past, the proprietary nature of Cool Treats for Dogs coupled with the Meyers' background and early successes may land them a sweet deal.