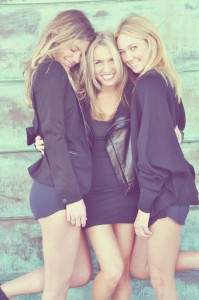 Shemie, a self described modern slip for modern women, plunges into the Shark Tank during episode 407. Entrepreneur Shelton Wilder is a personal stylist who works for Nordstrom (at least for now) and hopes the sharks will see the need for her simple, yet elegant woman's undergarment. Ms. Wilder is no stranger to the woman's fashion industry, she developed a similar product a few years ago called the Sheltini, but it appears that business is no longer around.
Shemie and Shelton Wilder History
Shelton Wilder is no stranger to the fashion industry. From 2006 to the present, she's run Shelton Page, Inc., a "luxury lifestylist" business. She's been employed by Nordstrom since 2010 as a "Personal Stylist Specialist for Women and Men," which is fancy talk for a personal shopper. Ms. Wilder has the right stuff to help upscale shoppers spend a lot of money at Nordstrom.
Apparently the entrepreneur bug bit Wilder earlier this year when she started Shemie back in March to make and sell her modern slips. The Shemie is designed to be worn under garments comfortably; it can also be worn as a stand alone dress. It was designed to give women the ability to wear high fashion, sheer clothing without revealing too much. She has different styles with hysterical names like "Meet the Parents," "The Romper," and "The Paparazzi Protector." Clearly Wilder developed the Shemie with a nod to the humorous side of the fashion world.
Will Sharks slip into Shemie?
It's pretty clear Shelton Wilder knows how to sell fashion and has an eye for beauty. One look at the Shemie website can show you she's all about looking good. Her designs look simple, but elegant and I think women will like them. A quick poll of the women in my home got the thumbs up for the designs. I think the sharks will like them too. This will come down to numbers.
Daymond John is the obvious shark anyone with a fashion product in the Shark Tank would target. Perhaps he'll appreciate Shelton Wilder's flair for fashion sales when considering her pitch. One thing concerns me about Shemie: her web presence. The Shemie website is just a Tumblr page and it has no ordering info or listings for where to purchase a Shemie. Another concern is that slips are not proprietary, Shemie is a straight branding play, which leads back to Daymond. Wilder may be "too early" for the Sharks. Her best hope is to score a designer deal with Daymond where she'll most likely give up 65% equity.