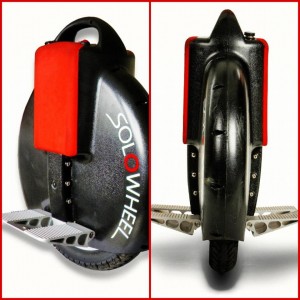 SoloWheel, a battery-powered, gyro-stabilized  unicycle, rolls into the Shark Tank in episode 407 with their claim that "we've re-invented the wheel." SoloWheel is made by Inventist, a company founded by Shane Chen in 2003 with the mission of providing a "variety of new and interesting products for people everywhere that are fun, exciting and different." The SoloWheel is the latest invention in the Inventist stable of products which includes everything from sporting goods to kitchen gadgets.
What is SoloWheel?
SoloWheel is basically a wheel with two small pedal-like platforms powered by a small electric motor. To ride it, you just stand on the pedals and go. Solo Wheel is about the size of a briefcase, so it's great for urban travel without worrying about parking or storage; when you get to where you want to go, you just pick it up and bring it with you! Think Segway, but smaller, lighter and less expensive. Fans of the BC Comic Strip can easily get a visualization of how SoloWheel works.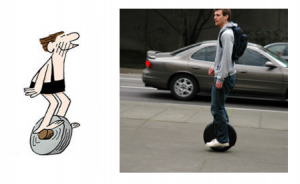 At only 26 pounds, it's portable enough to take just about anywhere. The Solo Wheel steers by the rider shifting body weight. It's powered by a rechargeable, lithium-ion battery and can travel up to 10 miles per hour with a limit of about 10 miles on a full charge. In summary, it looks like a fun way to get around!
Will Sharks Roll with SoloWheel?
Inventist has been in business 10 years and appears to have sold many of their inventions in the past. I have seen their Orbit Wheel skates in action and I have seen ads for other products on their website. The folks at Inventist are clearly very – well – inventive! Since they have had success in the past and appear to be a mature business, I am wondering why they are on the Shark Tank at all.
SoloWheel is new, so maybe they want to get some exposure from the Shark Tank. It's also a product that has the potential for catching on, particularly for urban travelers. It can get you from point A to point B quickly and without the hassles of registering a vehicle, parking, locking a bike or dealing with public transportation. When Segways were introduced, they promised they'd change the face of personal transportation, but it didn't happen, largely due to its hefty price tag. At less than $2,000, the SoloWheel is a viable and affordable option to other modes of urban transportation. They appear to have sales and their website is built out for potential customers to find retail locations, but no locations are listed.
One problem I see for Solo Wheel is they have been victimized by knock offs and counterfeiters. They claim they are taking steps to curtail cheap knock  offs from infiltrating the market, but the fact the problem exists leads me to believe the "patent issue" will rear its ugly head in the Shark Tank once again.
Kevin O'Leary has already touted the product on Twitter. He tweeted this yesterday:
 "Check out this funky unicycle! It's a #sharktank deal. Think gyroscope for balance, it works!"
Seeing Mr. Wonderful tooling around on a SoloWheel in studio could have some hilarious results, but the fact he took the time to Tweet about it a week before SoloWheel airs makes me think a deal got done. Anything revolutionary and proprietary should spark interest from the Sharks; being on board with "the next big thing" is often both enticing to and profitable for venture capitalists.
I think Solo Wheel gets a deal done in the Shark Tank. I am "IN."