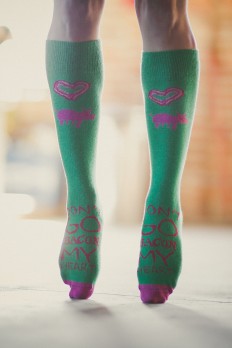 Zach Crain pitched Freaker in season four and now HE'S BACK with Freaker Feet! Whoop! Freaker Feet are socks, done up in the wacky, sometimes irreverent, and colorful fashion of the original Freaker. You may recall Zach didn't get a deal for his knit koozies, but he is a Kickstarter superstar. His 2011 campaign for Freaker won Kickstarter's version of the Oscars. The video video is very clever; it's a spoof on Criminal Minds!
Freaker Feet Launches
The sock market is about to get freaked. Freaker USA—which caught the country's attention with its wild beverage insulators and even wilder appearance from founder Zach Crain on ABC's Shark Tank—is bringing its special brand of irreverence to socks with Freaker Feet. And it's going to bring jobs back to the US in the process by sourcing and manufacturing domestically.
Freaker Feet's bold and playful sock designs, which will charm even the most conservative wearer of argyles and solids, will be produced 100% by American cotton growers, mills, dyers and packagers. With designs ranging from a cheeky tribute for each of the 50 states to the colors of all professional football teams to officially-licensed collegiate designs, there's a USA-made Freaker Feet sock design for all sensibilities.
Time for a Kickstarter
To start production on Freaker Feet, Crain is returning to Kickstarter (his 2011 launch video for Freaker USA was hailed as "the holy grail of Kickstarter videos" by the crowdfunding site) to raise money. Zach makes his case for homegrown socks with a 6-minute tour de force video. The goal: $250,000 to help take the leap into mass production, putting our country's toes into bold new socks, and putting more Americans back to work.
Zach's new video is pretty funny, but his made in the USA product is serious business. It's great to see companies making it a point to keep manufacturing in the USA. He says it's "time to stop pointing fingers about no manufacturing jobs and start doing something about creating them." Indeed, Zach. Indeed.
Enjoy the video and check out the Freaker Feet Kickstarter page.