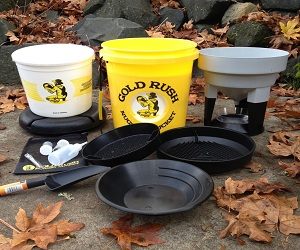 Mark Peterson knows about the riches gold can bring, he hopes the Sharks bring their riches to the table when he pitches the Gold Rush Nugget Bucket, a gold panning kit, in Shark Tank episode 622. Peterson has been panning for gold in Oregon for years, but his daughter found a better way. He decided to make a business out of his daughter's idea for a gold panning kit featuring a series of buckets funnels, screens and pans back in 2012. Peterson got patents for his product and went about selling it online.
In the Gold Panning world, the Gold Rush Nugget Bucket sets the gold standard for ease of use and portability. The entire gold panning kit weighs just seven pounds and fits neatly into a 5 gallon bucket. The product is approved by the Gold Prospectors Association of America.
Panning for gold evokes images of the California Gold Rush in the 1860's and 70's, but it's still a very popular pass time today. Gold dust can be found anywhere from stream beds to playground sand from the Home Depot. The Gold Rush Nugget Bucket recovers 99% of the finest gold dust and makes things easier by concentrating gold particles into a small bowl, making it easier to pan.
Peterson must be looking for help expanding his gold empire. Will the Sharks lust for gold?
My Take on the Gold Panning Kit
Panning for gold is kinda fun and relaxing – a lot like fishing. I did it a few times back in my twenties, one of my hiking buddies was into it and he brought his gold panning supplies with him on camping trips. We were doing it in New Hampshire, so we didn't strike it rich, but we found some tiny flakes of gold. My friend never got rich from his hobby, but he did make a few bucks and he enjoyed the hobby.
People who think they're going to get rich panning for gold will be disappointed, but if you approach it as a hobby, you can have some fun. It's a great way to get outdoors. Gold panning is quite popular and actually saw a resurgence in the last economic downturn; people literally panned for gold so they could eat! Peterson's market is the recreational panner, professional prospectors use heavy equipment and sluicers to extract gold. Hobbyists use a pan.
I'm not sure I would rush out to buy the Gold Rush Nugget Bucket, but I am sure many amateur prospectors would love Peterson's simple solution.
Do Sharks See Gold?
I believe Mr. Peterson will be seeking manufacturing help for this gold panning kit. at $99.99 it's on the pricey side for a series of plastic parts and a couple of buckets. My guess is he wants help getting his production costs down which means cash for larger orders. Getting into big box retail might be another strategy.
Look for Kevin to be the star of this segment. Hell make cracks about loving gold and this being his type of business, but I doubt he's an investor; unless he crafts some wily royalty scheme Peterson accepts. Barbara likely passes too. Mark might go in if he likes Peterson and thinks there's room for growth. Robert is probably out, or he makes a ridiculous offer.
The dark horse is Lori. She's more used to seeing a more finished product when it comes to gold, but if she believes she can sell it, she'll bid. I think it's a stretch for Lori too, however. When it comes right down to it, the product is too niche for a Shark.
Peterson might not get a deal, but he'll have viewers thinking about panning for gold.