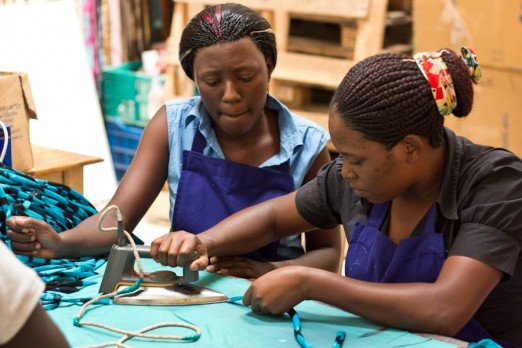 Liz and Ben Bohannon come to the Shark Tank seeking an investment for Sseko sandals in episode 622. Their business is a combination of a capitalist venture and a philanthropic lifestyle business. Liz hatched Sseko (pronounced SAY-CO) while doing PR work for a non profit in Uganda.
Liz was struck by the poverty in the village she lived in and she befriended young, Ugandan women who had finished secondary school and were seeking ways to earn money to attend college. There aren't many job opportunities for young women in Uganda, so Liz set out to create some. She founded Sseko on the principal that she could create economic and educational opportunities for these women through a financially self-sustaining model. To date, Sseko has sent 47 women to college with the wages they earned working for Liz.
She brought her husband Ben along to help manage the growing enterprise and Liz finds herself in the unique position of being both employer and mentor to a group of around 50 women (and growing). Simply put, they manufacture sandals, handbags, and a slew of fashion accessories in the Ugandan villages and sell them worldwide. The company is chugging along quite nicely, but the Bohannons are at the stage where they need to manage their growth carefully; this is probably why they are in the Shark Tank.
My Take on Sseko
These are women's clothes, accessories, and shoes, so I wouldn't buy them for myself. My crack team of female critics are unanimous however: they like the look of Sseko Designs. The sandals remind me of Xeroshoes; they have the huarache sandal-like ties, but on leather soles.
It's too bad they don't make a men's sandal, they look cool and comfortable. As a guy who wears sandals and crocs most of the time (except winter), I'd probably pick up a pair. At $70 or so, they're a bit on the pricey side, but the quality looks good and the company back story makes me think I wouldn't mind spending a few extra bucks. I think the Bohannons have a good thing going and I really admire their commitment to socially responsible entrepreneurship that's working. I am IN!
Do Sharks Wear Sandals?
I have a feeling we'll get an "at home" segment prior to this pitch. The Sseko story is an inspiring and compelling one, but will it impress the Sharks? Profits and sales will be more important than the social mission to the Sharks, so the Bohannons better leave the "happy talk" in their introduction.If they have strong growth and sales and they present themselves well, I think they could cause a feeding frenzy.
If Lori likes the products, it would be a good QVC product; she could also help with getting Sseko into retail. Barbara could bite, too – perhaps she'll team with Lori again. Robert is the softy in the Tank, so he could make an offer based on the company mission if they have good numbers. Mr. Wonderful may mock their philanthropy, but it will be tempered if profits and growth are solid, so he could bid, too. I could even see Mark making a play on this if the Bohannon's are his type of entrepreneur; Mark could also team with one of the other Sharks, too.
I think Sseko will field more than one offer and they could very likely be bringing a Shark to Uganda!